A Look At HODLing - Aludra August 3 Newsletter
Evaluating A Common Passive Crypto-asset Investment Strategy: HODLing

Welcome back to the Aludra newsletter - we hope this edition finds you safe and healthy during these challenging times. In this week's newsletter we look at passive investing in the crypto-space compared to active investing. In the crypto-space, passive investing generally refers to "HODLing", the crypto-slang term for holding a cryptocurrency rather than selling it. HODLing is a common and pervasive investment practice of many crypto-assets investors. The concept is simple: since 2015 Bitcoin is up +$10,824.37 USD, a +3,812.18% increase - why bother selling if it only goes up? This is especially timely as in the last week crypto-assets have seen major gains, with Bitcoin up +$1,751.11 USD or +18.7% and Ether up +$79.71 USD or 32.8%. Of course, not everyone bought Bitcoin or Ether back in 2015, much less last week, and unless you have a time machine those gains are gone. So, is HODLing the answer?
---
Main Analysis: Evaluating A Common Passive Crypto-asset Investment Strategy: HODLing
Date Written: July 31, 2020
For every investor, knowing when to buy and sell an asset is one of the toughest challenges they will face. Is now the right time? Will what I'm selling go up once I no longer own it? What about the tax implications of this sale? For crypto-assets, this timing dilemma is doubly difficult due to the near constant volatility many crypto-assets typically experience, often for seemingly no reason and not tied to any news, project development, or regulatory action. As a result, many crypto-asset investors have employed a passive investing style called HODLing, whereby they never sell or trade the assets they own so they don't have to worry about the difficulties in attempting to time such chaotic markets. In this article we will look to explore this pervasive investment strategy.
What is HODLing?

Screenshot: BitcoinTalkForums origin of 'HODLing'
While much has been written about the origin of HODLing among crypto-investors the main reason HODLing remains a common investment strategy in the space is that crypto-assets are very volatile, and most investors are not good at timing markets. As a result of this volatility, many investors many sell their crypto-asset positions prematurely with respect to further appreciation. HODLing offers a different approach: enjoy the ride and hold on for dear life.
A HODL-style investment in a crypto-asset resembles investing in an early-stage company in that as an investor you have no desire to sell your stake until it has matured and an exit is reasonable. For HODLers, the current volatility crypto-markets experience is simply a byproduct of the revolutionary nature of crypto as it will takes years for crypto to be widely accepted. As such, for HODLers it makes sense to just buy and hold and wait out the volatility while the assets class gains acceptance. An analogy could be made that for HODLers they view the crypto-space akin to Amazon in 2001, just before its massive rally into becoming the dominant ecommerce platform that it is today. Similarly, the total crypto-market cap has come down dramatically since its all-time highs in 2018 but also has rebounded significantly, perhaps alluding to a future appreciation similar to the Amazon chart below.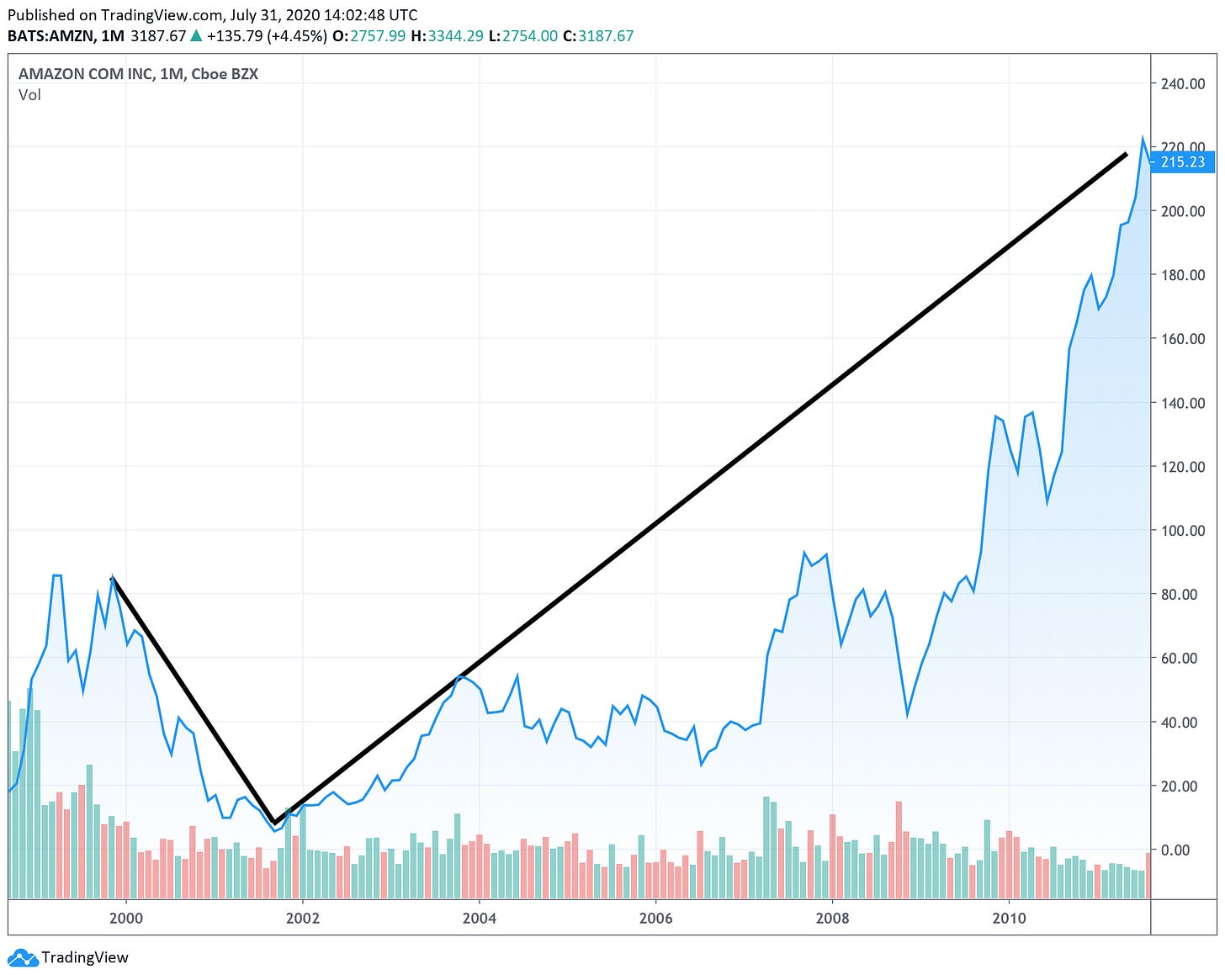 Screenshot: AMZN decline from peak dotcom bubble in 2001 to rally into 2010
Screenshot: Total crypto-market-cap decline from peak 2018 to current day
The Pros & Cons of HODLing
HODLing has become one of the more pervasive trading concepts (or even meme) in the crypto-space for good reason: if you bought many crypto-assets years ago and held them until today you would have had a remarkable return on your investment. In particular, HODLers of Bitcoin over the last decade have seen massive outperformance of their investment in the crypto-asset relative other traditional asset classes. However, at the same time they have incurred tremendous portfolio volatility and drawdown. HODLing assumes, however, that you actually have bought and held a crypto-asset long ago.
Of course, how many investors actually did buy Amazon at its 2001 low of ~$6 a share? How many investors bought Bitcoin this past year at its March 17 low of ~$5000 a coin? Therein lies the major problem with HODLing: timing and investor patience. Further, passive investment strategies like HODLing have multiple other pros and cons:
Passive Crypto-Investment Pros:
Historical outperformance relative to other asset classes (crypto at-large)

Low daily effort

Zero trade fees compared to active trading
Passive Crypto-Investment Cons:
Crypto rich, cash poor

Positions can incur massive drawdowns

Bear market cycles can last years

Have to sell eventually in order to make purchases in a fiat dominated world
Having outlined some of the pros and cons of passive investment strategies like HODLing, it's worth analyzing how pervasive HODLing is in practice. We'll look at Bitcoin as an example.
Few Actual HODLers
While you don't need to go far into the crypto-space to find a Twitter status, Reddit comment, or forum post extolling the virtues of HODLing, in reality there aren't that many actual Bitcoin HOLDers. The chart below shows the distribution of Bitcoin wallet addresses to number of coins held in those wallets. Notice how in the leftmost outlined box wallet addresses with BTC balances below 1 (as in one full Bitcoin) constitute the over ~97% of wallets, while at the same time holding only ~5% of total BTC as outlined in the rightmost box.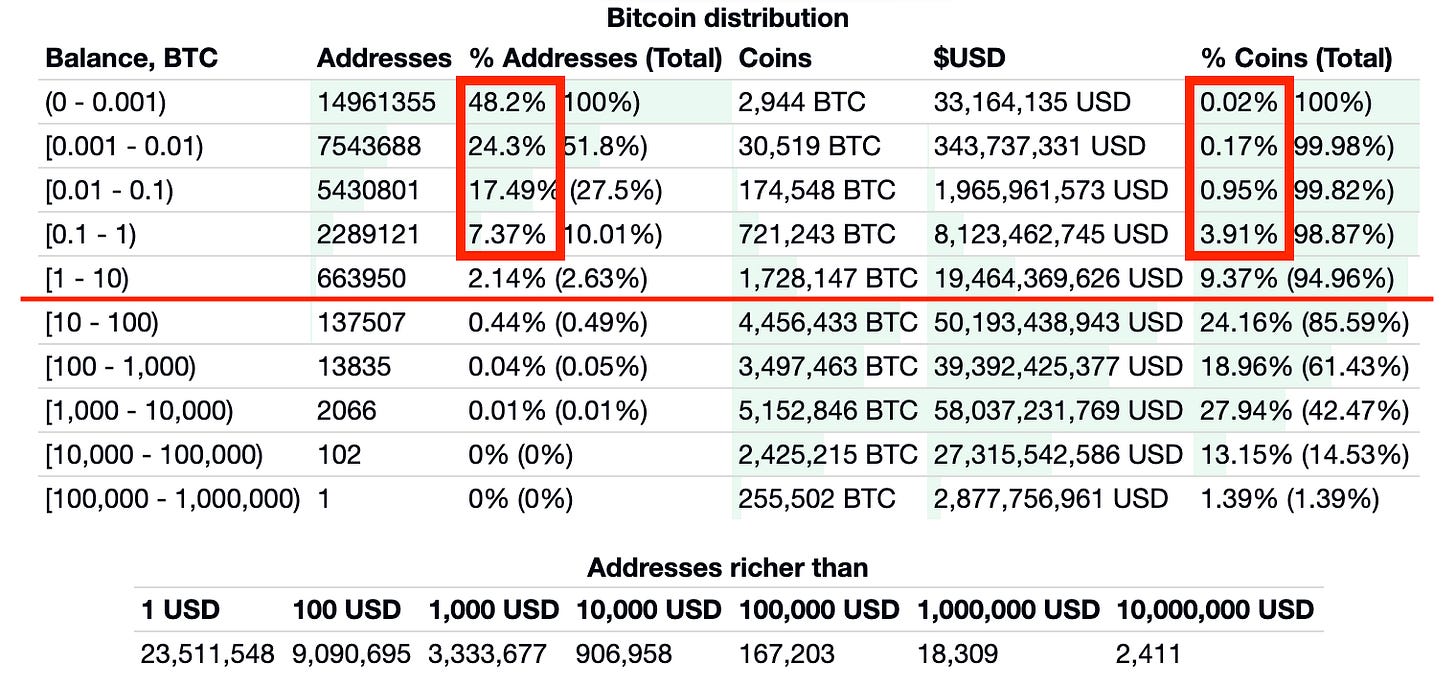 Source: BitInfoCharts.com
This chart tells us that the vast majority of Bitcoin wallets do not actually HODL. In fact, most BTC wallets hold small amounts of fractions of Bitcoin, running counter to the notion of "buying and holding". In fact, only ~0.50% of BTC wallets hold more than 10 Bitcoin (~$110,000). It is, of course, possible one HODLer can own many wallets, thus spreading their holdings (e.g. owning a wallet on Coinbase, a wallet on Kraken, and a personal hardware wallet). However, management of multiple wallets per asset is a complicated feat and with the vast majority of wallets owning less than $1,000 USD in BTC, this notion 'spreading the wealth' is challenging to accept. HODLing appears to be more meme than practice.
Passive (HODLing) Performance Depends on Timing
Despite the fact there seemingly are not being that many actual HODLers, buying and holding Bitcoin remains a common benchmark by which crypto traders and hedge funds compare themselves. When you zoom out on Bitcoin and many other crypto-assets, it's certainly easy to think that if your trading can't beat the performance of buying and holding Bitcoin then you shouldn't be trading. And if you look at the CCi30 crypto-asset index, a diversified basket of 30 crypto-assets, beginning in 2005 through today, you wouldn't be wrong: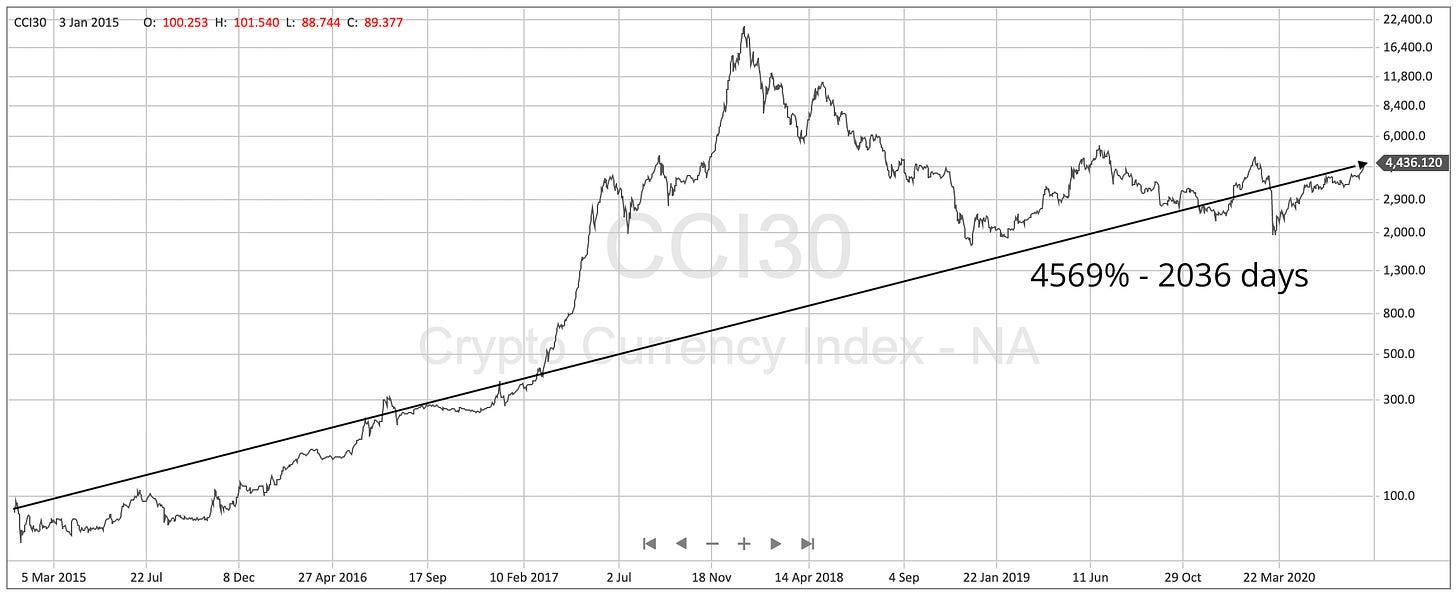 Screenshot: CCi30 performance between Jan 3, 2015 to July 31, 2020
But in reality, most investors have interested the space in the years since, particularly around the 2017/2018 timeframe. Since then, many crypto-assets are still well below their all-time highs of 2018, meaning performance truly is relative to the time in which you first entered the asset class. Some examples of the challenge of timing: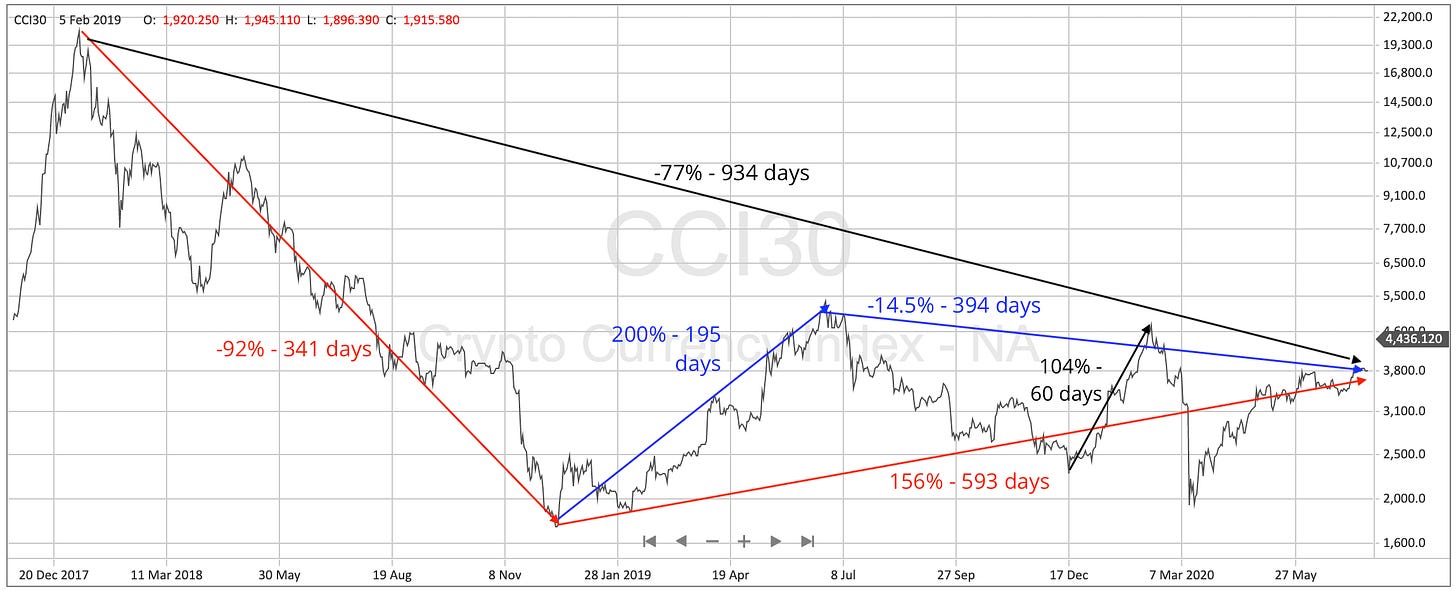 Screenshot: CCi30 performance between November 23, 2017 to July 31, 2020
Closing Thoughts and Investing Strategy Alternatives
An argument could be made that should the crypto-market experience another 4000%+ rise similar to the chart above that any volatility incurred in the interim is worth the risk - which is fair. Unfortunately, as we've shown, for most investors trying to time crypto-markets and/or remain patience during heavy volatility remains a challenge - so much so that there may not be as many HODLers as the forums would have you believe (at least for Bitcoin).
While we can't predict when the start of the next 4000%+ rally should ever occur (if ever), it's worth considering that an investment into a nascent and volatile asset class such as cryptos doesn't have to be as gut-wrenching as simply "holding on for dear life" if you are willing to look beyond just pure return performance and consider risk performance as well. As we have written about substantially on blog, employing actively managed trading strategies that adjust portfolio holdings in response to volatility, drawdown, and other performance considerations, may offer potentially less risk exposure than passive strategies, albeit with higher technical and operation overhead due to the complexities of the systems and algorithms involved in the trading process. This is especially important for firms and companies that cannot have the risk tolerance of an individual investor.
In the end, investing in crypto-assets is a a risky investment. And for many crypto-asset investors the risk profile of simply HODLing suffices their needs.
---
How can we make these newsletters more valuable to you? We'd love to hear your feedback. Connect with us by email.
If you found this newsletter interesting, please consider sharing it, thank you.
Disclaimer: This newsletter and article is in no way intended to provide financial advice or a recommendation of investment in any technology, virtual currency, cryptocurrency, or any financial asset. This article is for educational and informational purposes only.