We hope this newsletter finds you in good spirit, mind, and health. This week, at 2020-05-11 19:23 UTC, block 630,000 was mined, Bitcoin underwent its 3rd halvening, and (on a Bitcoin basis) mining profitability was cut in half - forever. We keep it brief this week and look into the data to analyze the immediate aftermath the halvening had on bitcoin miners and if it is any indication of what is to come. Some initial observations after the jump.
---
Updates from Aludra:
Engineering: We've made significant engineering progress on our market making systems and are in process of converting a number of our systems over to C++ for improved performance. If you're a talented systems developer looking for a new opportunity, send us a note with your resume and Github.

Data: Blockchain data is vast and there are great resources available today. We believe there is still missing pieces for certain audiences. If you have a unique data set or a 'wish-list' of easy to access metrics (API or web), send us a note, we would love to hear your thoughts.

New site: We're on schedule with our new website and expect to have it live early next week.

Contact us: If you weren't aware, you can reply directly to this newsletter if you're receiving it by email. Otherwise shoot us a email at info@aludracapital.com.
---
Main Analysis: After the Halvening, What Will Happen to BTC Mining?
Date Written: May 13, 2020
At 2020-05-11 19:23 UTC Bitcoin block 630,000 was mined and cut Bitcoin mining profitability in half - forever. So what comes next? In this brief article, we will look at the immediate aftermath of the halvening and how it has already impacted mining, particularly if older generating mining hardware turned off, as some researchers expected, as well as transaction fees. First, a recap on the halvening and how mining profitability is affected by it.
The Halvening & Miner Profitability
For the last 4 years, the block subsidy/reward to mine a block on the Bitcoin blockchain was 12.5 BTC per block - that's 12.5 Bitcoin added to the circulating supply of a total 21M Bitcoin to ever be in circulation (the current number is around 18.3M BTC in circulation) - paid directly to miners who receive the block subsidy as a reward for running the hardware to produce blocks
But now, that subsidy has been halved to 6.25 BTC per block as part of an internal mechanism to ensure the scarcity of Bitcoin and limit price inflation by gradually slowing the issuance of new Bitcoin to the circulating supply by half roughly every 210,000 blocks that are mined (approximately every 4 years).
Needless to say for miners a decrease in the block subsidy is a big deal as profitability has been cut in literal half. Miners ability to keep operations live is essentially a combination of the following factors:
BTC/USD

Difficulty (rate of new BTC available to be mined)

Block subsidy (reward + transaction fees)

Cost to produce (labor + electricity)

Efficiency of mining hardware

Competition
Without a significant increase in BTC/USD or a significant decrease in the cost to produce, profitability is now in half as the old 12.5 BTC block subsidy is now 6.25.
Since the halvening, the block reward for a miner has gone from about $120,000 in new BTC and transaction fees to currently about $60,000.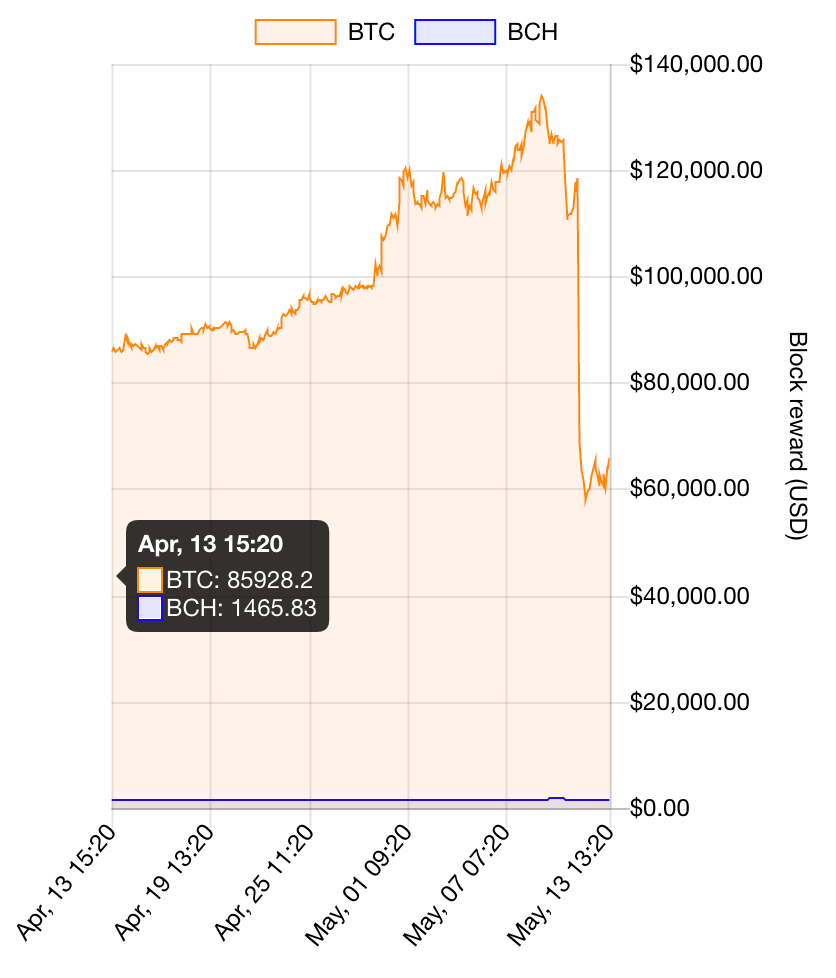 And while BTC/USD has increased about 3% from the May 11 open to the current price ($9,061.95), that doesn't do much to improve mining profitability if a miners cost to produce and competition to mine a block remains the same. So what goes into the cost to produce and competition? And how might the future of mining look due to this recent halvening?
Half the Reward… Half the Profit? Not Exactly.
While the block reward has decreased by half, it is not the only consideration for miners. Mining is a complex ecosystem - changes to one of the aforementioned factors can have unique ripple effects across all the others. To truly know how mining will evolve due the recent halvening, we need some understanding of the important driving factors.
Electricity
Of the many sides of mining profitability, cost to produce is likely the most important component and electricity costs make up the majority of the cost to produce. Mining operations can be incredibly profitable or have to stop operations based on the difference of a penny ($0.01) in kilowatt hour electricity rates.
Below are two screenshots of mining profits using an identical machine, a Bitmain Antminer S9 (more on that later), one of the best selling machines of all time, with the following inputs: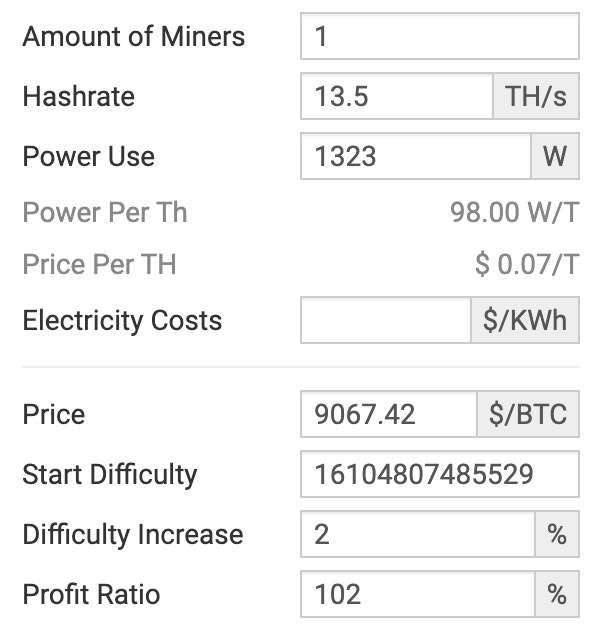 Screenshot: https://btc.com/tools/mining-calculator
The first snapshot below is with an electricity price of $0.03 kw/h. The second screenshot is with a $0.02 kw/h price.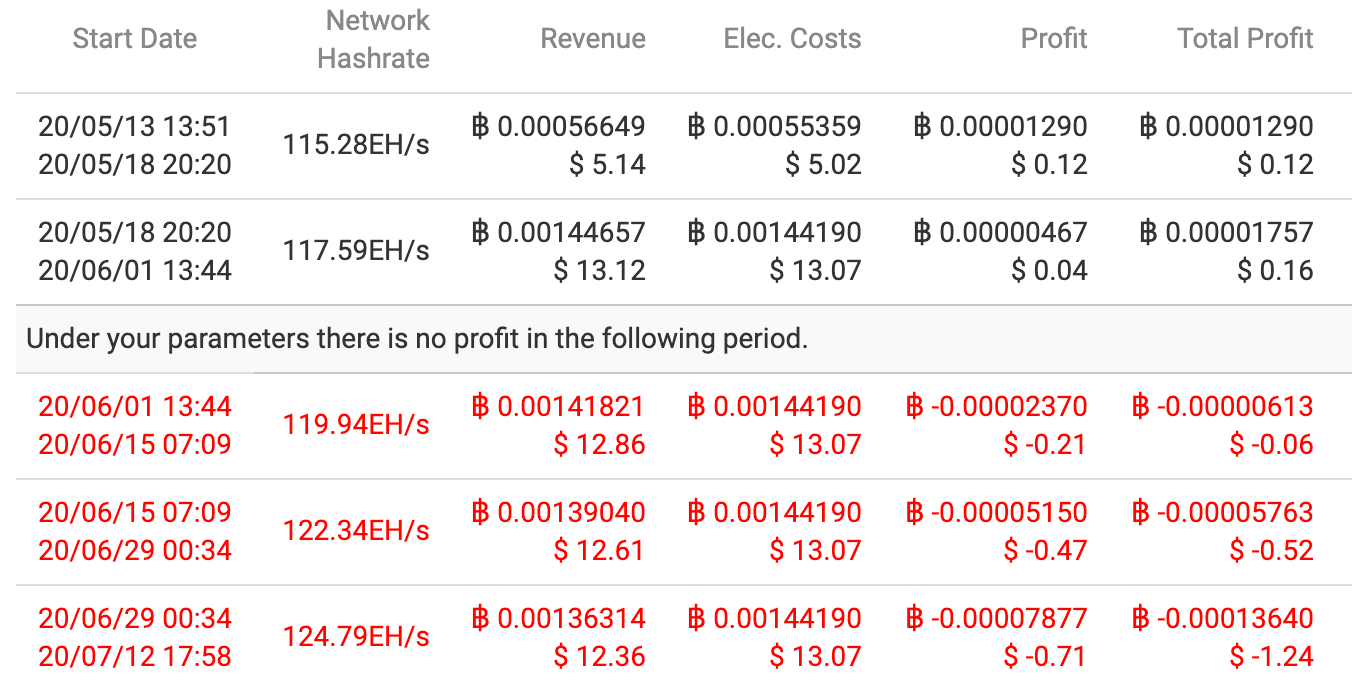 Screenshot: $0.03 kw/h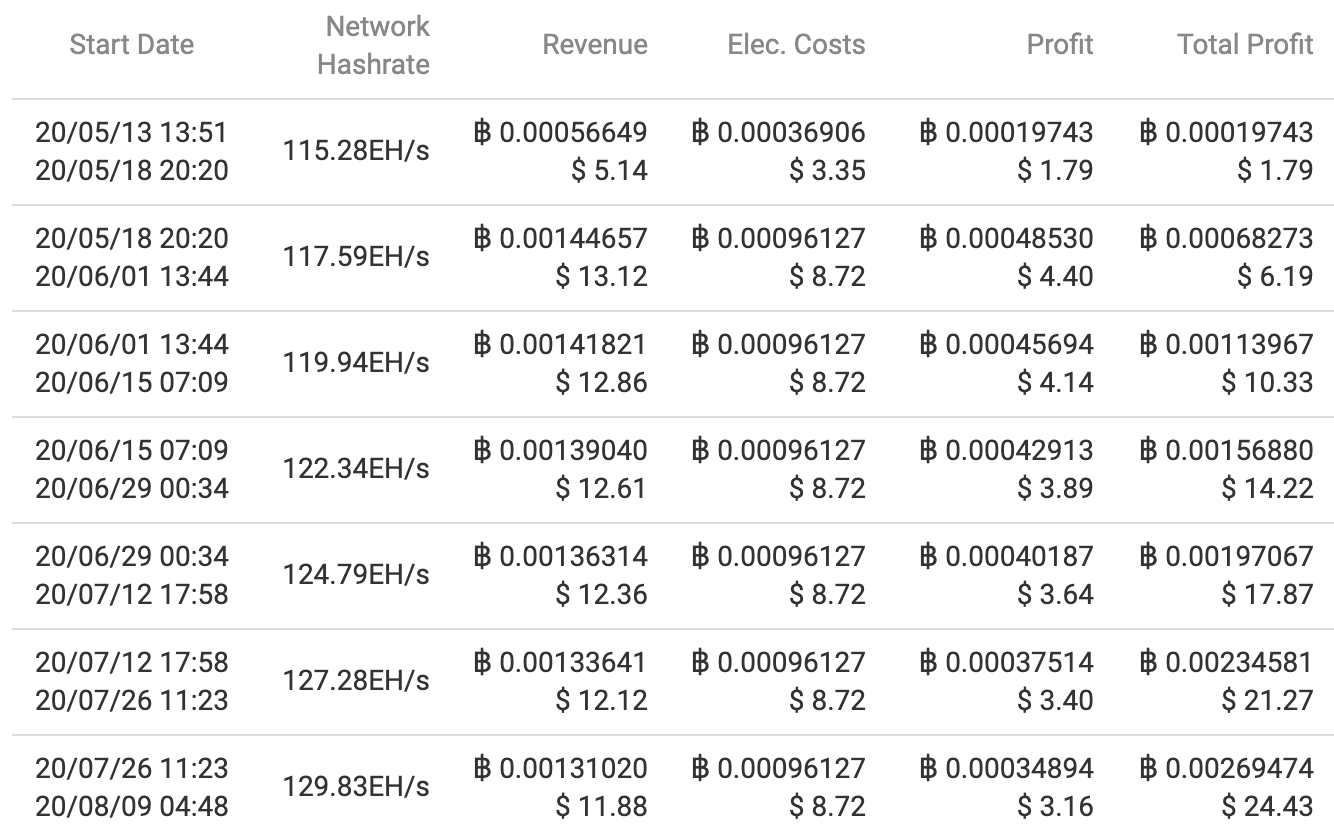 Screenshot: $0.02 kw/h
We can immediately see how much electricity impacts mining profitability. Even a penny difference is substantial. The S9 can not run for much longer wtih the current block subsidy and BTC/USD price - and this doesn't even factor for direct labor costs to run the hardware and other operating expenses.
For most mining operations electricity costs are fixed. That is, a miner signs a contract with a power product or utility to use a fixed amount of electricity per month at a fixed rate. It's called a power purchase agreement (PPA). While PPAs differ across the board, it's very common to see rates above $0.03 kw/h in many part of North America with better rates in Asia.
Competition
While it's obvious that the electricity cost is substantial, what's also happening in these screenshots is that over time we assume that competition to mine a block increases with competition essentially being a proxy for hashrates and difficulty. As global hashrates increase a miners share of the network decreases and so does their share of any reward. Conversely, those miners with very cheap electricity benefit in a decrease in hashrate as their share of any reward increases.
The Thesis: Machine Efficiency & Older Generation Hardware
It's been thought (BitMEX Research: Mining Incentives (Part 4): The Impact Of The Halvening) that as the halvening would lower the reward it would push many of the older generation of machines out of the market as they would be too inefficient to compete. An example being in the first screenshot above (older machine S9 with higher electricity costs) - over a few weeks it becomes cost prohibitive to run the machine as competition becomes too great, the reward is too low, and the machine is too inefficient. As such, we should be able to observe a noticeable decrease in hashrate if many machines are suddenly rendered inefficient due to the decreased payout.
Analysis:
When we look at the hashrate changes the day of the halvening until the date of writing this article (05-13-2020), we see some interesting things.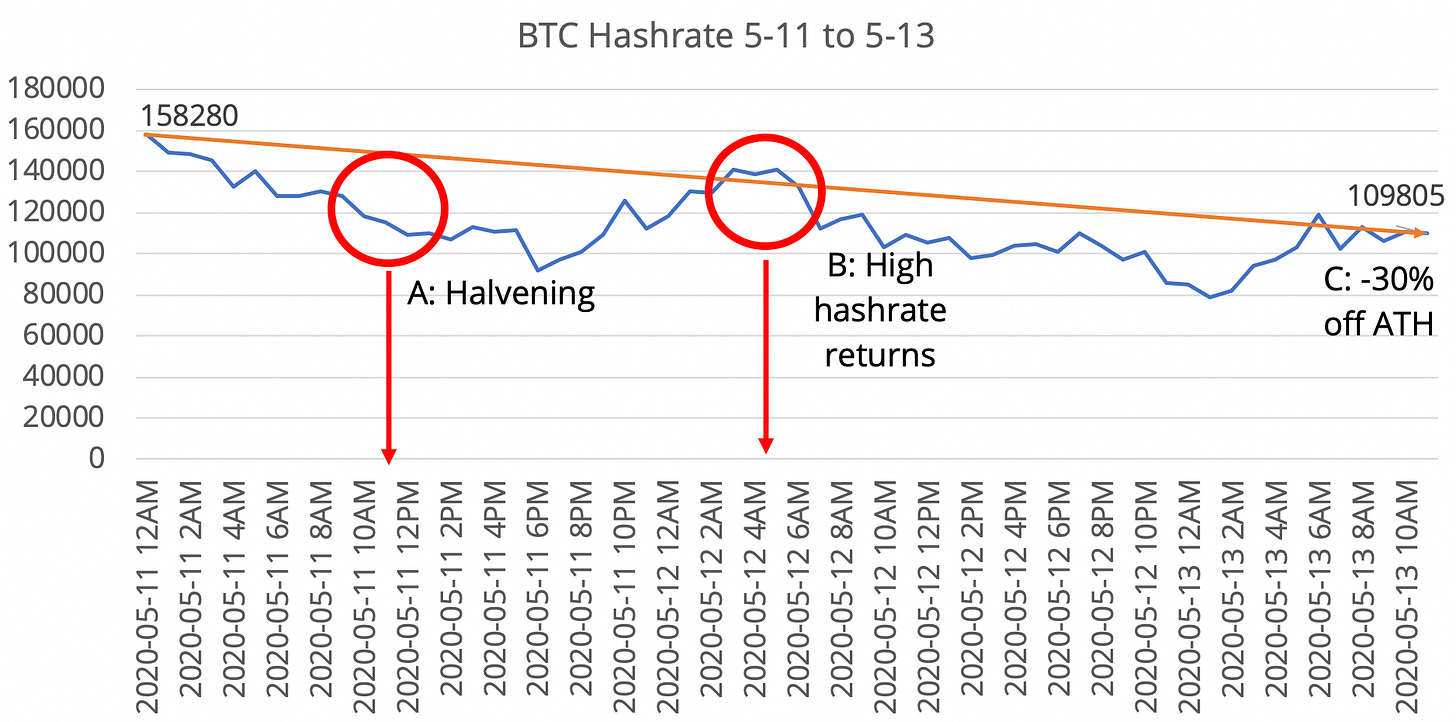 A: we see a large reduction in hashrate leading up to the halvening of around 43 exahash. If this were purely S9s turning offline it would somewhere around 3,185,000 machines assuming they were all running a standard configurations and quoted efficiency.

B: within a few days we see a large percentage of hashrate return to a peak of 140 exahash, just 12 exahash off the previous peak but this is after the halvening.

C: hashrate is 30% less than the start of the day on the halvening.
It's unlikely that every S9 turned off but clearly many older generation machines did. Mining hardware can be tuned to different settings to allow for less power consumption, and in some cases the right tuning can keep a machine operating longer. For instance, we can see the current number of S9s still in operation running with custom firmware at different tuning settings: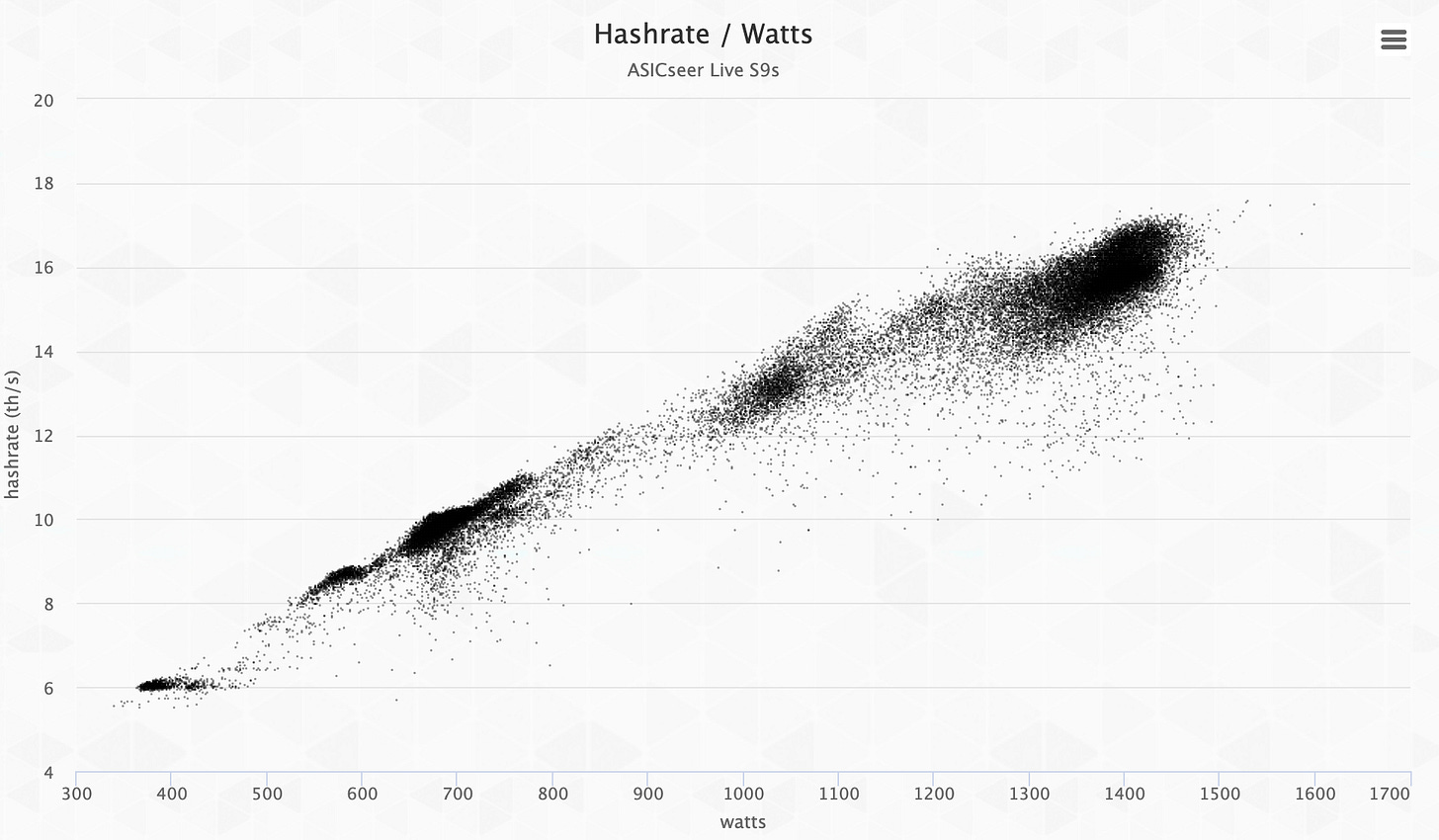 Screenshot: ASICseer Live S9s chart
Further, something we can analyze in the future is actually how many S9s turned off by looking at nonce distribution (great primer here).
What is clear however is that a large number of likely older generation machines turned off as we believe it is unlikely that an operator with newer, more efficient hardware would be mining with subpar electricity rates (we've generally seen in the market newer mining operators with very competitive electricity rates also have new more efficient hardware).
So if the block reward is less, how else are miners compensating? There is one other aspect to profitability that in the future will be much more important the block subsidy - transactions fees.
Transaction Fees
Miners are also rewarded the transaction fees of the transactions included in each block and in the future as the block subsidy approaches and eventually is zero it will be critically important that Bitcoin transaction fees are high enough to incentivize miners to continue mining.
Typically, transaction fees have been quite low - one of the major draws of sending value using Bitcoin. However, leading up the the halvening fees have substantially increased despite a relatively constant amount of transactions: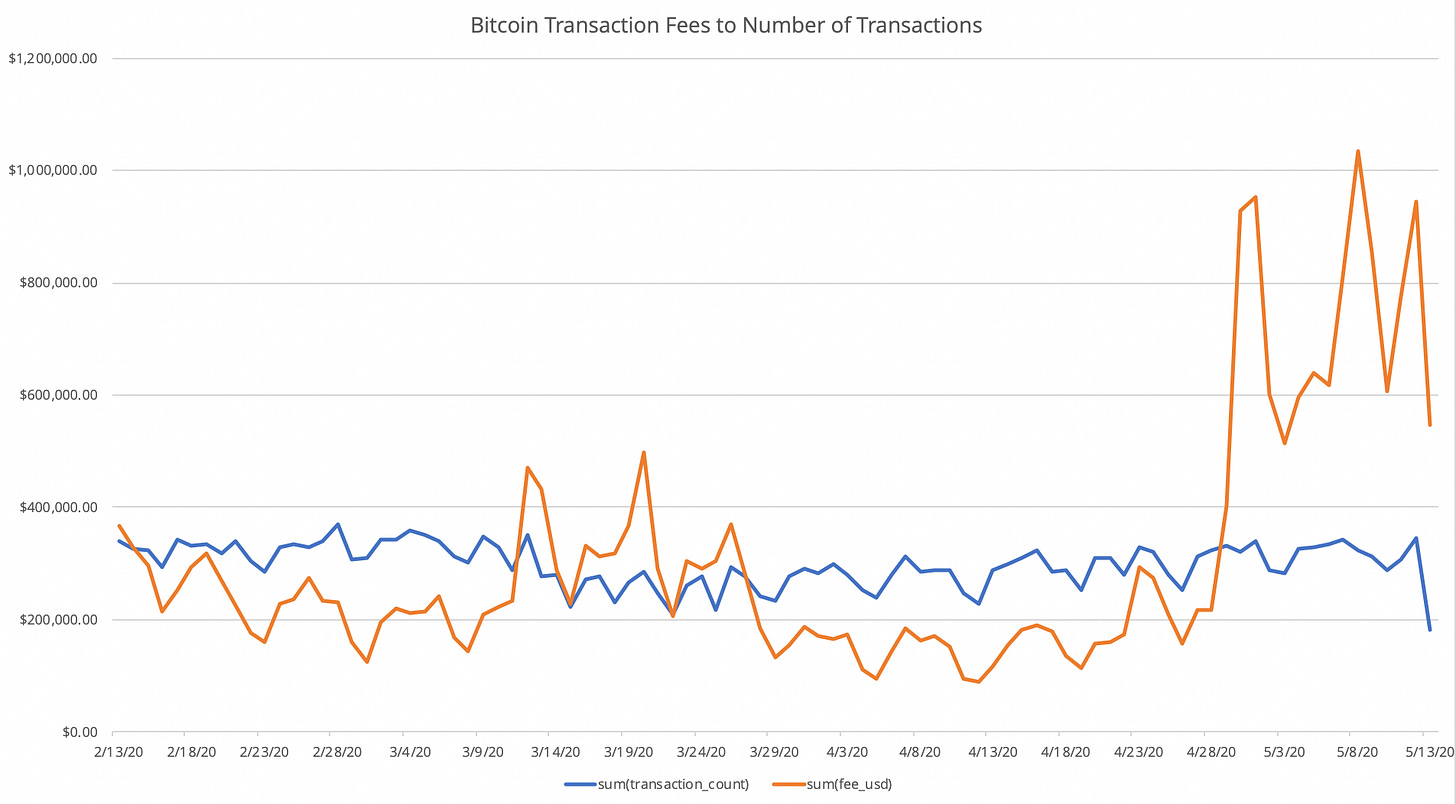 Screenshot: sum of transaction fees per day compared to number of transactions per day
As we can see, while the reward from the block itself has decreased by half, the fees miners receive from transactions has increased quite dramatically which will help mining operations profitability. Whether fees remain high and help offset the decrease in block reward remains to be seen.
Closing Thoughts:
As the block subsidies continue to dwindle in the future cost to produce alongside transaction fees will be the biggest hurdle that miners will face. The ability to find nearly free power will be the only way most miners will be able to be profitable and even then the mining reward will become less and less unless the sum of fees increases alongside the price of BTC/USD. Only the biggest, most well connected miners with large economies of scale will be able to operate in this environment and we're already starting to see this take hold as the recent halvening pushed out about 30% of miners.
---
14-day Crypto-to-Traditional Asset Correlation Snapshot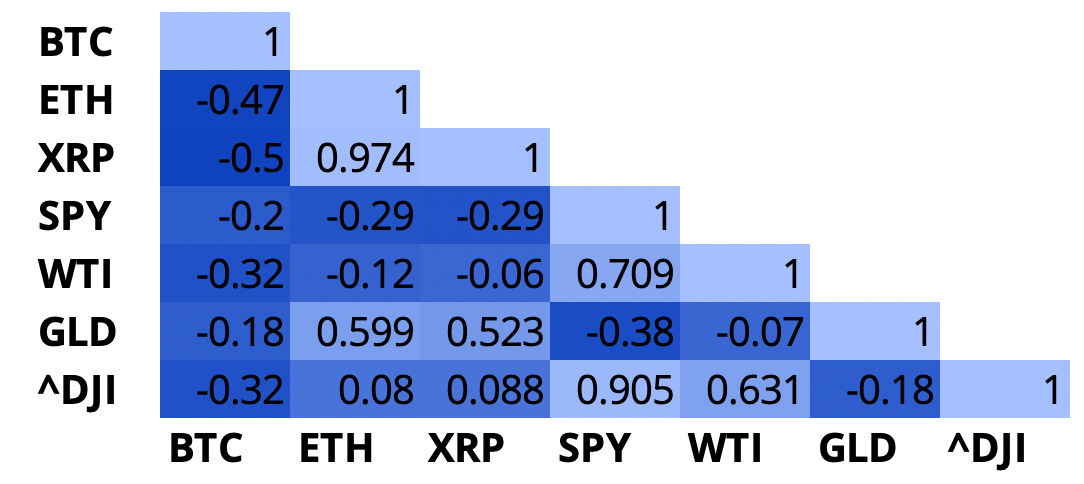 14-day correlation matrix of major cryptos compared to traditional assets indexes. Compare to the April 29 matrix here.
---
How can we make these newsletters more valuable to you? We'd love to hear your feedback. Connect with us by email or in the comments.
If you found this newsletter interesting, please consider sharing it, thank you.
Disclaimer: This newsletter and article is in no way intended to provide financial advice or a recommendation of investment in any technology, virtual currency, cryptocurrency, or any financial asset. This article is for educational purposes only.