BCH & BSV Halvenings - Foreshadowing for BTC? - Aludra April 15 Newsletter
We're on Substack, a review of the BCH & BSV halvening, market making systems, and more.
Hi there, this is the Aludra bi-weekly newsletter. We want to keep our friends and colleagues better informed on what we're building and the data we're seeing. We've been recommended by many to use Substack so here we are. We added some friends - maybe you - of the firm that we thought might like to keep up to date with us. We hope you'll stick around.
If you're new, we use these newsletters to provide regular firm updates and give readers our data science-based insight on the latest news, events, and other happenings across crypto. Thanks for reading.
In this edition, we review the recent Bitcoin Cash and Bitcoin SV halvenings and look to see if they provide any insight towards the upcoming Bitcoin (BTC) halvening in May. But first, some updates from our side.
---
Firm Updates:
Market Making: We're in the early stages of upgrading our trading system to enable market making strategies. Our goal with market making is to be able to provide a value-additive service to the types of exchanges our existing systematic strategies utilize while at the same time also expanding our trading footprint.

This seemed like a natural extension of what we've been building for the past few years - strategies and systems that are venue and regulatory regime agnostic. So far, we've successfully built a working model, back-tester that utilizes historical data, and have seen positive results. Now, we're currently building the features for our new trade execution system specific to these strategies.

We're compiling a list of exchanges that suit our needs and there is a mutual fit. If you know of exchanges that may be looking for market makers or have infrastructure in place to support such operations, please feel free to reach out (info@aludracapital.com).

Website: We're in the process of giving our website a much needed redesign. While trading is our focus, we are working on other opportunistic deals, particularly in the mining space, and want to make sure our site reflects our scope. Our long term goal is to be less reliant on 3rd party publishing platforms while striking a balance with ease of access and accessibility (hence using platforms like Substack).
---
Main Analysis: BCH & BSV Halvenings - Foreshadowing for BTC?
Date Written: April 13, 2020
The Bitcoin Cash (BCH) blockchain underwent its first halvening (third in the chain's history but first as the BCH fork) on 8 April 2020. Another Bitcoin fork, Bitcoin Satoshi Vision (BSV) also underwent its first halvening on 10 April 2020. In the lead-up to these halvenings were stories on both sides of the now relatively quiet Bitcoin (BTC) versus Bitcoin Cash (BCH) war as well as from the BSV camps. Examples include: "Bitcoin SV, Bitcoin Cash Halvening Spell Doom For The Miners", "Bitcoin Cash Halving Results in Miner Exodus and Profitability Decline". Were they right? Did mining profits decline? Is this the end of BCH and BSV?
Spoiler: Not really.
Now that the dust has settled, we can take a look at the data and see how things actually transpired and if these halvenings are a precursor to Bitcoin's upcoming halvening in May. It is important to note that the data analyzed is still fresh and not much time has passed – this is a preliminary analysis. Having said that, this article, while not a deep dive, will analyze the halvenings effect on hashrate, difficulty, proof-of-work security, miner profitability, and overall price.
Halvening Crash Course:
As a quick simplified refresher, the "halvening" is when Bitcoin is scheduled (by design) to reduce by half the amount of new Bitcoin that is minted per new block. Arbitrarily, this happens about every four years as a built-in anti-inflationary mechanism. Satoshi described this:
"Total circulation will be 21,000,000 coins. It will be distributed to network nodes when they make blocks, with the amount cut in half every four years: first four years: 10,500,000 coins next four years: 5,250,000 coins next four years: 2,625,000 coins next four years: 1,312,500 coins etc..." (https://satoshi.nakamotoinstitute.org/emails/cryptography/16/#selection-123.1-139.6)
Currently, on the main Bitcoin chain, the amount of new Bitcoin released into the circulating supply is 12.5 BTC per block. This 12.5 BTC is essentially the reward miners receive for processing transactions on the Bitcoin network and creating new blocks. Again, Satoshi wrote probably the most straightforward explanation of how transactions are processed in the original white paper:
1) New transactions are broadcast to all nodes.

2) Each node collects new transactions into a block.

3) Each node works on finding a difficult proof-of-work for its block.

4) When a node finds a proof-of-work, it broadcasts the block to all nodes.

5) Nodes accept the block only if all transactions in it are valid and not already spent.

6) Nodes express their acceptance of the block by working on creating the next block in the chain, using the hash of the accepted block as the previous hash.
(https://bitcoin.org/bitcoin.pdf)
Back to the present – Satoshi has disappeared and, in his void, emerged competing chains Bitcoin Cash (BSV) and Bitcoin SV (BSV). Because both BCH and BSV handle slightly differently than Bitcoin how 'fast' new blocks are added to their respective blockchain (difficulty is adjusted after every block) both chains underwent their halvenings before Bitcoin (by about a month). So, what happened?
Hashrate and Security:
As of 13 April 2020, both chains BCH and BSV are still operating normally. Neither chain exploded and blocks are still being processed. A common thought leading up to the halvenings was that hashrate from the chain undergoing halvening would move over to BTC. Reviewing data from coin.dance, on BCH's day of halvening this looks to have happened but it is difficult to determine to what extent. On 8 April, BCH's hashrate dropped from 3363 petahash (compared to BTC's 104023 petahash) to 1977 petahash (to BTC's 120122). BTC rose by 16,099 petahash, much more than the 1,386 petahash that left the BCH network. The next day, the BCH network hashrate at one point dropped to a mere 421 petahash, only to rebound back up to most recently (on 13 April) 4266 petahash, a 913.3% increase.
On 10 April, when BSV underwent its halvening, it similarly dropped from 1722 petahash to 664 petahash, a 61.44% same day reduction. However, within hours the next day the hashrate rose back to 2112 petahash, a 218% increase.
Here is a nice chart from Coinwarz.com of BCH's hashrate from the last six months: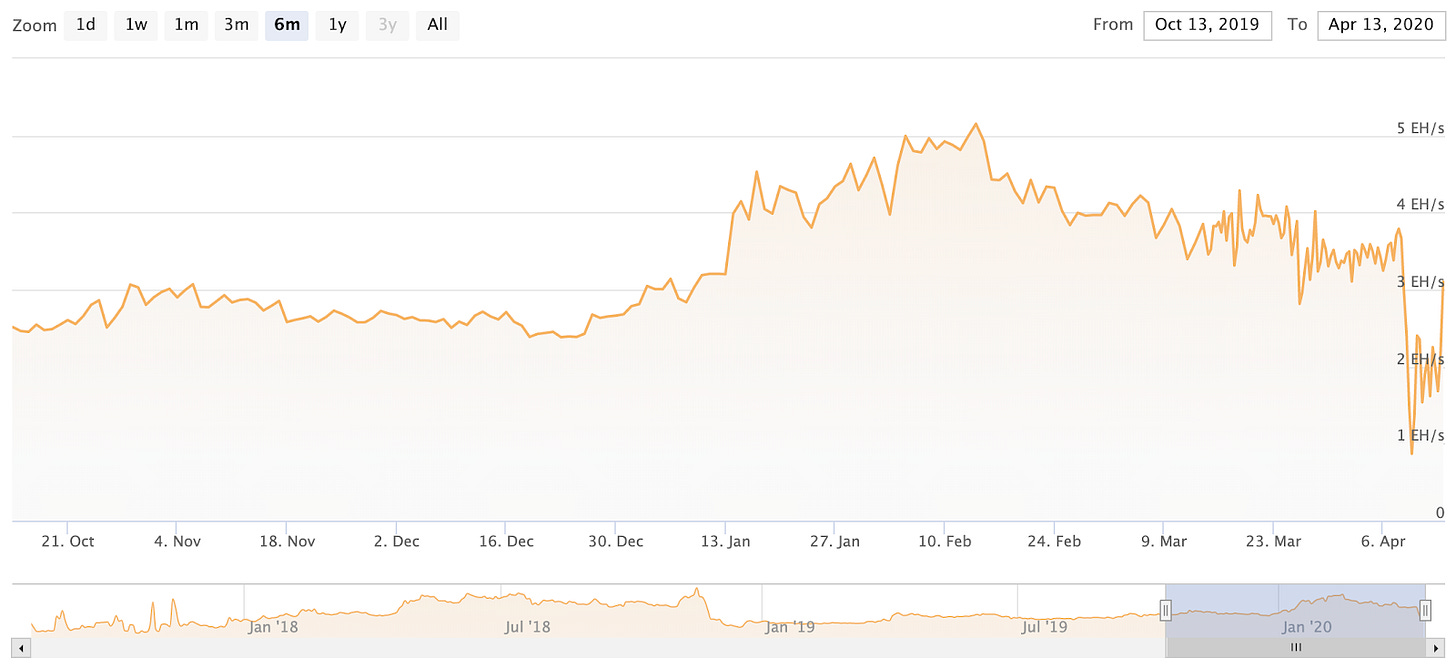 With respect to the halvening, this data is mostly insignificant and mostly expected. BCH hashrate has fluctuated throughout most of its existence. The same is true for BSV.
You might be thinking, "How can that be insignificant?". Because both BCH and BSV readjust their difficulty so quickly there will be some amount of incentive to mine it. Miners will switch back and forth between the chains, and frankly, a chain with one exahash is still a lot of computing power. It is important to remember that the Bitcoin BTC network (87.31 TWh) uses what is estimated to be more power than countries such as Finland (82.79), Switzerland (58.5 TWh), and many more (according to the Cambridge Bitcoin Electricity Consumption Index). That's an incredible amount of energy and a massive capital commitment power the network. Still, the current number of hashes is low and it will be worth watching in the coming weeks once BTC goes through its halvening as well. 
With the BCH and BSV, hashrate alone, on many accounts, is a bad measure of chain health/security, simply because it is highly likely that only a few individuals control the vast majority of hashing power per chain. Measurements like number of transactions also miss the point - to the end user if you're going to send money/value you likely do not care which chain is faster or cheaper, the differences are negligible to non-crypto alternatives.
While not exactly a security issue, there was an issue where directly after the BCH halvening the next block (height 630,001) took about 110 minutes to be produced instead of the typical 10 minutes. Though the timing is ironic, it is possible for chains to have slower than normal blocks. In fact, BCH had a 5.5 hour block (height 620026) just as recently as January. 
The more important measurement is the amount of time it will take to rewrite the chain as part of a reorg and change transactions. Currently this amount is about 30-33 days to completely rewrite the BCH/BSV chains when utilizing all available hashrate, including BTC hashrate. This is less time than pre-halvening level and while a complete reorg is not necessary to cause harm, this should still be cause for concern.
Another important consideration, of course, is miner profitability, for if a chain becomes too unprofitable to mine miners will not create new blocks, though, as mentioned it is likely that some individuals will continue to operate the network even when it is unprofitable to do so. Not considering operating expenses, miner profitability is calculated by: (block coinbase+fees) / (block difficulty) * (exchange rate in USD). Because both BCH and BSV dynamically adjust their difficulty much more than Bitcoin BTC does, mining profitability for BCH and BSV is consistently in flux, essentially to entice miners to mine on the competing chains for a short amount of time before it gets too difficult and BTC becomes more profitable to mine.

Estimated miner profitability post-halvenings from coin.dance. Exact profitability depends on many factors and above figure is for illustrative purposes only.
The Whales:
This is where a data point called first spend history can help us. First spend is exactly what it sounds like, it is the amount of coins generated from block rewards that have been sent to another wallet, exchange for the first time (it is their first spend in the Bitcoin UTXO model). Reviewing data from our friends at ByteTree, we can see some differences between the two chains. As mentioned, the data is still very fresh so this will likely change in the future, but as it stands currently, those mining BSV have essentially been hoarding it for the last twelve weeks, even up to today, with the net inventory being 2,593 unspent coins out of 12,251 generated, or 21.16%. On the other side, BCH also has a positive twelve week net inventory of 1,009 unspent coins out of 12,162, or 8.29%. What net inventory generally signifies is miner sentiment towards future price as well as miner capitulation – if miners are not selling the coins they mine (positive net supply), it likely means they have enough cash on hand to run operations or they hold a bullish stance on the future of the coins price such that they expect the price to rise and hope to capitalize on that appreciation. We have seen some miners get in trouble by not selling when they should have and essentially 'gambling' with their mined rewards operating revenue. As such, when the net supply is negative, it generally means that miners are selling out of their mined reserves and likely signifies a bearish sentiment towards future price appreciation as they are trying to lock in gains. From the current first spend data, it would appear that miners of BSV are quite bullish that the coin will appreciate in the future.
Market Performance:
The price of each did not drop to zero nor did either chain's price drastically increase directly after their halvening. In the month leading up to 8 April BCH halvening, BCH/USD opened at $331.01 (per coinmarketcap.com) and closed at $266.24, a 19.57% decrease. In the days since it has further decreased 11.44% to close at $235.79. Bitcoin SV faired a little better, with BSV/USD opening at $199.20 and closing a month later on the day of halvening at $186.52, a 6.37% decrease. In the two days since the BSV halvening it has actually increased 3.46% to close at $192.97. Volume across exchanges for the two chains has remained mostly consistent as well.
Thus far, the market performance of these coins is statistically insignificant to really draw any conclusions from for two reasons. 
First, simply put, we do not have enough data to make a strong case that either the BCH or BSV halvening had a positive or negative effect on the price performance of either asset. Second, we are in the midst of the COVID19 pandemic which has impacted markets, economies, and most importantly lives, across the world. Crypto markets have not been immune to this, despite their decentralized nature that should run contrary to traditional asset markets. On March 12th, BTC/USD (what we consider the leading indicator for the crypto markets) dropped ~37% with the Dow Jones Industry Average which dropped ~7%. COVID19 is causing major changes to market performance of all asset classes - it will be interesting to see how it impacts BTC's market performance leading up to the halvening in just under a month. 
What is more likely an explanation, as with most cryptocurrencies, is that BCH and BSV are highly correlated with Bitcoin and in general will trend follow what Bitcoin (BTC) does with respect to price. A likely prediction (that can be analyzed later this year) is should BTC appreciate in 2020 (whether due to its upcoming halvening or not is irrelevant) it is likely that BCH and BSV will also appreciate in value.

90-day correlation matrix of BTC, BCH, BSV. Anything above .5 is said to have a strong/high correlation.
What This Means for Bitcoin:
If it is not already clear, it is difficult to analyze the immediate aftermath of the BCH and BSV halvenings as a precursor to the upcoming May BTC halvening - the data is just too fresh and not indicative enough of any major trend, sentiment, or regime change or reversal. We did see a clear move of some hashrate from BCH and BSV but we also saw more hashrate join the BTC network than left either chain. This is not surprising. Most miners choose to mine Bitcoin over BCH or BSV regardless of potential additional profitability on the competing chains. Some reasons are:
Strategic/corporate mandate to only support (mine) Bitcoin

Convenience of not managing mining machines (ASICs) switching

Switching ASICs to other coins can be an operational hazard (machines can fail to make the switch and need to be rebooted which means they are not mining) 

Loyalty to Bitcoin

…and more
What could potentially occur is that directly after Bitcoins halvening, miners that are no longer profitable on BTC may switch to BCH or BSV for a short amount of time while there is an inequality (the economics of this may be only suitable for a small subset of miner). Regardless, the data currently available directly after these halvenings is insignificant to draw any major foreshadowing or conclusions - we will have to wait until May for Bitcoin's halvening to see (currently scheduled for May 10, 2020).
---
14-day Crypto-to-Traditional Asset Correlation Snapshot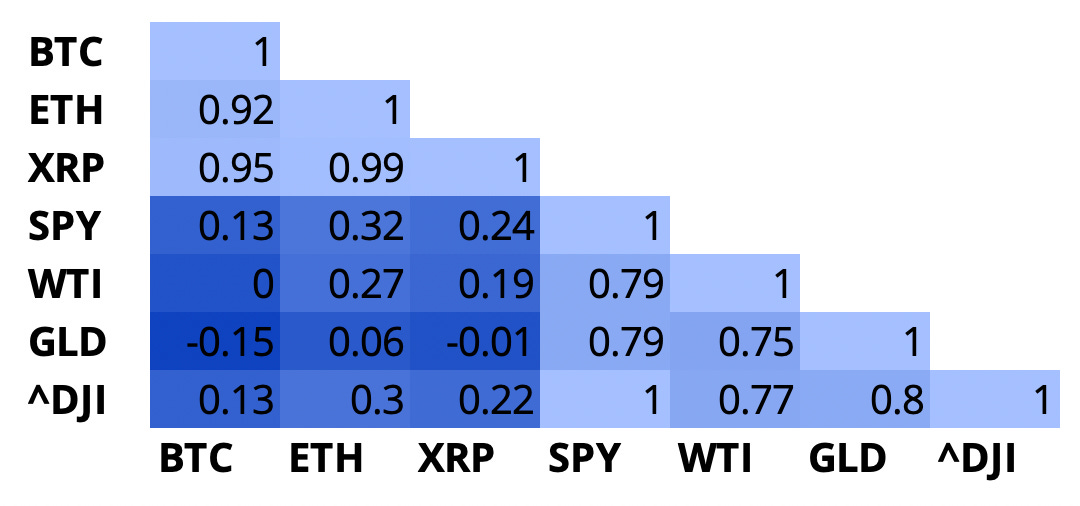 14-day correlation matrix of major cryptos compared to traditional assets indexes.
---
How can we make these newsletters more valuable to you? We'd love to hear your feedback. Connect with us by email info@aludracapital.com | robert@aludracapital.com or in the comments.
If you found this newsletter interesting, please consider sharing it, thank you.

Disclaimer: This newsletter and article is in no way intended to provide financial advice or a recommendation of investment in any technology, virtual currency, cryptocurrency, or any financial asset. This article is for educational purposes only.