Can ETHs Supply Economics Be A Price Catalyst? - Aludra August 17 Newsletter
Reviewing criticism of the tokens supply amid demand from DeFi products.

Welcome back to the Aludra newsletter. In this week's newsletter we look at some of the recent criticisms of Ethereum including its lack of fixed supply as well as the growth of its DeFi space and consider how these concerns may impact ETH prices in the near and long term.
---
Main Analysis: How DeFi and the ETH Supply May Impact Prices
Date Written: August 16, 2020
The second largest crypto-asset network, Ethereum, has had an incredible month. Since July 16, the Ethereum blockchains native token, ether (ETH), has gained ~$200 (87%+) amid an explosion of interest and usage in decentralized finance apps running on the Ethereum blockchain, or DeFi products. These DeFi products, such as Maker, Compound, Curve, and Yearn, now collectively have over $6B USD stored on their apps for use with lending and trading, an increase of ~125% in the last 30 days.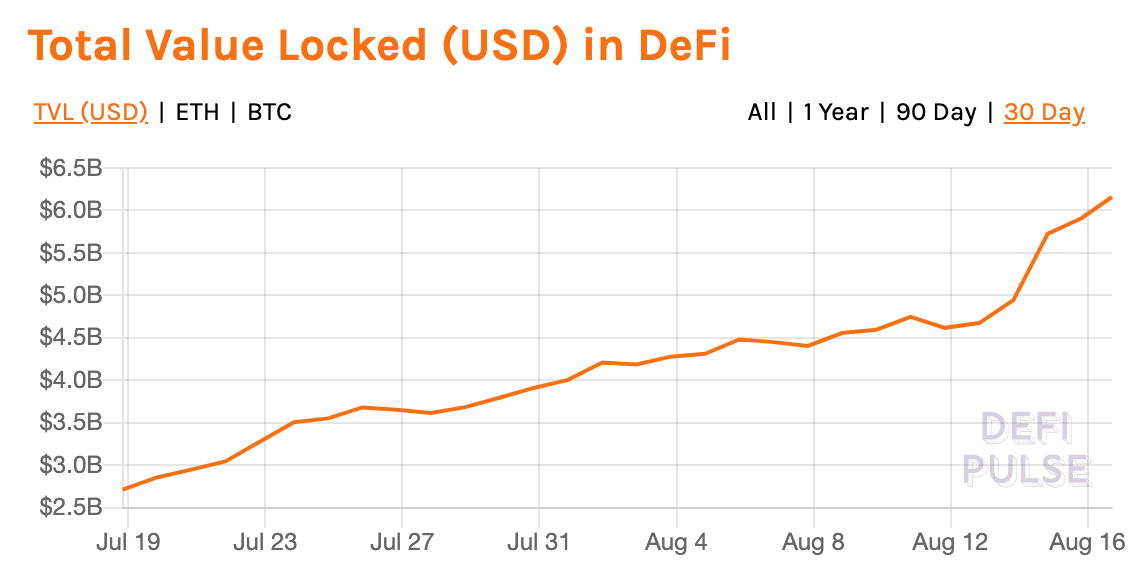 Source: defipulse.com
This appreciation in ETH has now pushed Bitcoin's market capitalization dominance over all other crypto-assets to below 60%. Additionally, on August 14th for the first time since 2018, the total daily USD value of ETH-based transactions (how much USD value has been exchanged on the ETH blockchain) surpassed $2B USD and remains above $1B USD.

Source: coinmetrics.io, emphasis Aludra | time period May 17 to August 17, 2020
Amid the substantial new economic activity happening on Ethereum have come renewed discussion and debate around the philosophy and design of the Ethereum blockchain, particularly criticisms regarding the lack of an upper supply limit of ETH as well as the economic mechanics of its DeFi ecosystem. So, what do these issues mean for investors? In this article we will look to assess these criticisms to better understand how they may impact the future growth of the ETH crypto-asset.
ETH Token Supply Economics
In assessing the prospects of how the Ethereum ETH token may appreciate as an investment, it's worthwhile to review recently renewed criticisms of the platform so as to better have a holistic perspective on the Ethereum ecosystem as it stands today and as it may in the future as some of these criticisms are important concepts and features of the platform. Particularly, amid the current heightened interest and excitement in Ethereum and its DeFi apps have come debate about the nature of Ethereum's ETH supply in comparison to Bitcoin.
From an investment standpoint, understanding how a crypto-assets supply is structured is of paramount importance for two reasons:
Supply Limit Philosophy: Crypto-assets are commonly (sometimes mistakenly) always assumed to have a fixed supply like Bitcoin does (many do not have a fixed supply). For many investors it is this perceived fixed supply that gives crypto-assets value as some of the only assets on Earth that have known-in-advance inflation rates. The philosophy of a token supply is a major driver or narrative and price.

Asset Price Value: Knowing the rate of inflation of an asset is valuable to be able to forecast the total outstanding supply of an asset in order to better evaluate its current price/value relative to its current supply.
For Ethereum, both of these concepts are currently challenging to address. Unlike Bitcoin, Ethereum does not have a fixed supply limit of 21 million tokens. In fact, as it stands today there is no upper limit on the number of ETH that can be issued in the future. This is further complicated because the issuance rate of ETH is not as straightforward as Bitcoin:
Ethereum started with a large amount of ETH created at launch - some of these tokens have been used to compensate developers on the platform

Ethereum block rewards are not uniformly winner take all - making the calculation of 'counting' the number of tokens issued more complicated (not impossible, just not as simple as Bitcoin)
This is by design and a philosophical choice of the Ethereum development community for reasons too exhaustive to list, but this economic structure means Ethereum does not allow it to directly compete with Bitcoin - and by design it's not meant to. Ethereum is a platform for decentralized applications (called dApps). Its ETH token is used to allow dApps to perform actions and run on the blockchain - not exactly money but a commodity necessary for dApp functionality.
Unfortunately, to those familiar only with the Bitcoin economic structure these discrepancies are challenging to understand and, to their disadvantage, the Ethereum community has not done a great job explaining these nuances in a straightforward and meaningful way, further alienating non-ETH investors and owners.
DeFi Usage Impacting ETH Prices
One of the main drivers of ETHs recent appreciation has been the growth of DeFi products on the Ethereum blockchain. As stated prior, DeFi provides decentralized financial service products, such as lending or trading, without the need for a centralized authority such as a bank or brokerage. When using DeFi products, all most all user interactions/transactions with these dApps take place on the blockchain. Because of this, competition to transact on the blockchain has gone up tremendously with the increase in interest. Simply put, more users are trying to 'do things' on the Ethereum blockchain at once, which puts strain on the transaction bandwidth of the blockchain.
This is further complicated by the fact that users can pay more money in transaction fees to transact faster on the blockchain. As a result, this combination of heightened interest in DeFi products and limited blockchain transaction bandwidth has led to a massive increase in fees.
Transaction fee revenue is now nearing half as high as block reward revenue. This actually risks making ethereum *less* secure because of
cs.princeton.edu/~arvindn/publi…
. Fee market reform (ie. EIP 1559) fixes this; another reason why that EIP is important.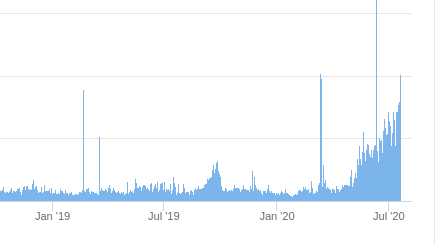 Below is an example workflow of the costs associated with trying to use a DeFi product such as a lending app:
Buy ETH | fee: exchange fee

Send ETH to a decentralized/personal wallet | fee: spending some ETH as payment for the transaction fee (known as gas fee)

Connect to a DeFi exchange to buy tokens with ETH | fee: ETH + gas fee

Send tokens to a lending platform | fee: gas fee

Receive tokens as interest for lending your tokens | fee: gas fee

Remove your tokens from the DeFi platform and swap them to ETH | fee: gas fee

Send your ETH back to an exchange to sell | fee: gas fee
Notice all the gas fees? Those gas fees require ETH for payment which has in turn driven demand for ETH to participate in DeFi products. For many smaller investors, the gas costs to participate in DeFi eliminate the possibility of profitably, as crypto-assets associated with the product can end up being stuck on the dApp if you do not have enough ETH to remove from the product. This has created an ecosystem where only the well capitalized investors can participate in DeFi products - at great risk too as many of these products have not been audited for security or bugs (example below of a once popular DeFi app that had an vulnerability/bug):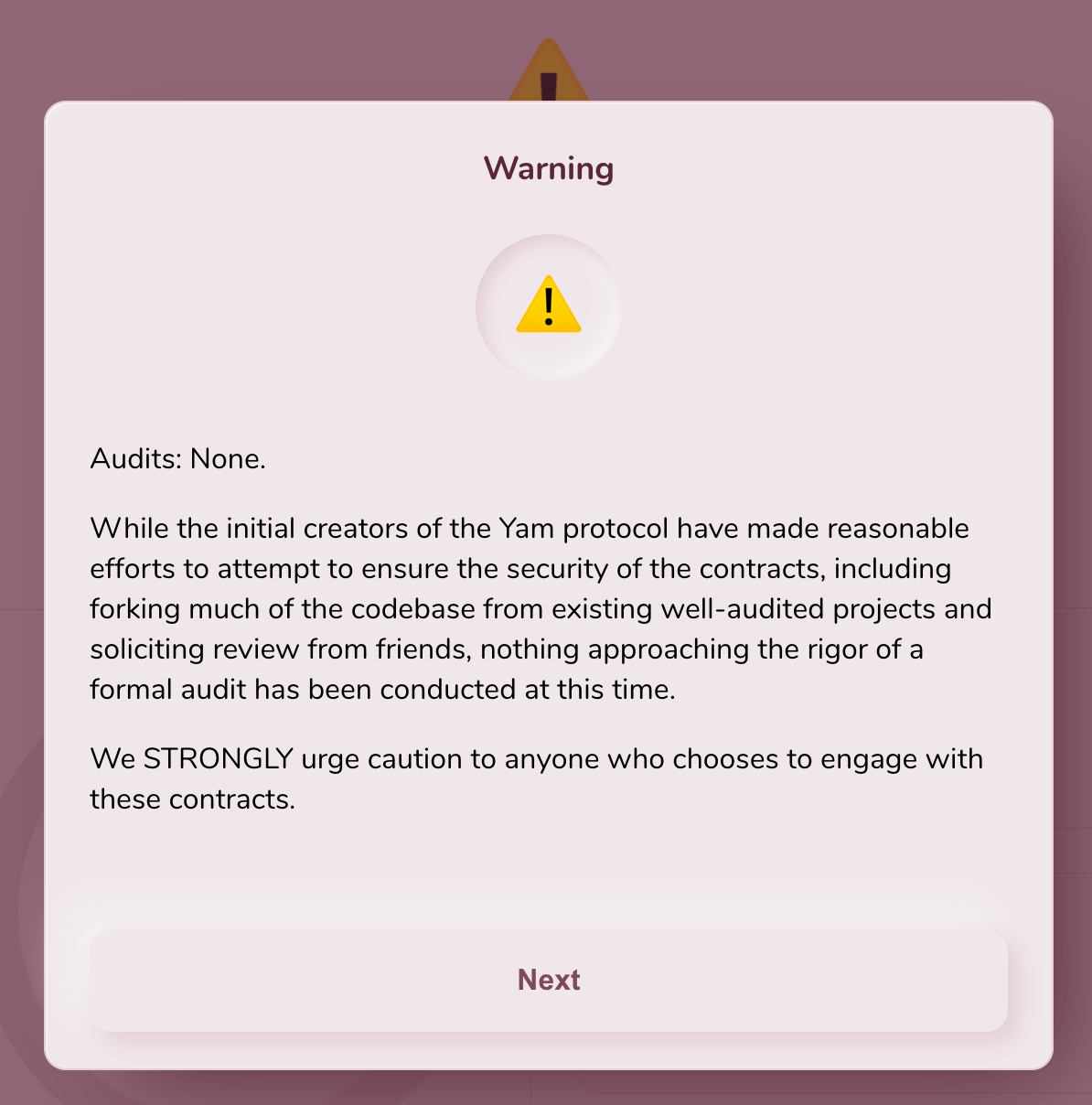 Source: yam.finance | warning screen when logging onto the app
So, if gas prices have become too expensive and DeFi products cannot be used by the masses and only be used by well capitalized investors, does this help or hurt ETH?
How These Topics Will Impact ETH (Short/Long Term)
In the short term, interest in DeFi apps may fizzle because of the expensiveness to use them as well as the security risks associated with unaudited dApps, thus creating less demand for ETH which could drive down prices. However, there is significant development on the Ethereum blockchain designed to improve the ecosystem and hopefully reduce transaction fees. Examples of which include the ETH 2.0 launch and feature implementation proposals such as EIP 1559 which will actually remove some ETH from existence, creating a pseudo-upper limit depending on usage.
These improvements may make these DeFi products less costly to utilize, thus making them more accessible to more users which in turn should drive demand for ETH in the long term. Additionally, the improvements of ETH 2.0 and other associated implementation proposals may provide positive sentiment towards the Ethereum blockchain and subsequently the ETH token.
There are currently few real-world use cases for DeFi products. For much of the world it currently remains much easier and safer to utilize centralized platforms such as banks and exchanges despite the lack of control they afford to their customers with respect to their assets and monies. Most of DeFi, as with cryptocurrencies in general, remains a speculative bet towards a world seeking alternatives to centralized platforms, especially in the realm of finance. Despite this, if one is an investor seeking such alternatives, Ethereum currently looks like one of the most promising platforms to deliver such future products and experiences.
---
How can we make these newsletters more valuable to you? We'd love to hear your feedback. Connect with us by email.
If you found this newsletter interesting, please consider sharing it, thank you.
Disclaimer: This newsletter and article is in no way intended to provide financial advice or a recommendation of investment in any technology, virtual currency, cryptocurrency, or any financial asset. This article is for educational and informational purposes only.