Is Goldman Sachs Right About Cryptocurrencies & Bitcoin? - Aludra June 11 Newsletter
We reviewed the Goldman Sachs slides against cryptos...
Note: this newsletter was originally written on June 2nd. Aludra stands against systematic oppression and racism both domestically and abroad. We felt it appropriate to temporarily pause our distribution to give space for the important dialogue happening across the United States and around the world.
During these troubling times we hope this newsletter finds you in sound mind, body, and spirit - thank you for joining us. In this weeks newsletter we look to analyze a recent report made by financial services firm Goldman Sachs that outlines 5 reasons "Cryptocurrencies Including Bitcoin Are Not an Asset Class". While much has already been written about the Goldman piece, we thought it would be valuable to share our analysis reviewing a number of their claims.
---
Main Analysis: Is Goldman Sachs Right About Cryptocurrencies & Bitcoin?
Date Written: June 2, 2020
Last week, Goldman Sachs held a conference call titled "US Economic Outlook & Implications of Current Policies for Inflation, Gold and Bitcoin". News of the call and Goldman's research was widely anticipated by the crypto/blockchain community as the long awaited institutional validation of Bitcoin. As you can imagine, it was not.
In their notes, Goldman listed 5 reasons "Cryptocurrencies Including Bitcoin Are Not an Asset Class":
Do Not Generate Cash Flow Like Bonds

Do Not Generate any Earnings Through Exposure to Global Economic Growth

Do Not Provide Consistent Diversification Benefits Given Their Unstable Correlations

Do Not Dampen Volatility Given Historical Volatility of 76%

Do Not Show Evidence of Hedging Inflation
In the week since the slides were published most every prominent digital asset voice in the space went on social media decrying Goldman's notes. "They just don't get it". But were they totally wrong? Not entirely. In reality, these 5 reasons are vague enough to support almost any argument for or against cryptocurrencies.
Cryptocurrencies are inherently different than any other asset class. Some cryptos, like Bitcoin, look and feel like a Store-of-Value, similar to gold, yet can be instantly sent over the internet, like an ACH transfer of cash. Other cryptos, like Ethereum, can be used as programable money, eliminating middlemen and trusted 3rd parties.
Regardless of what Goldman thinks, we believe there is value in reviewing these 5 reasons to test their validity and propose alternative thinking on each claim.
Reason 1: Cryptos Do Not Provide Cash Flow
In their first reason why cryptocurrencies are not an asset, Goldman lists that cryptocurrencies do not generate cash flow like bonds which is true despite the fact this qualifier seems to eliminate multiple types of assets from being considered investable as an "asset class". The claim in and of itself is true with a caveat - cryptocurrencies do not generate cash flow on their own: cryptos do not act like bonds, they have no yield or dividend. Similarly, real estate and fiat currencies (eg. USD) also do not generate cash flow through their mere existence. Simply owning a crypto-asset provides no additional cash flow unless it is put to work in some capacity.
Some cryptocurrencies can be staked similar to buying a certificate of deposit:
It's worth pointing out that many cryptocurrencies are starting to use Proof-of-Stake, a consensus model that yields new coins/tokens to holders that lock up, or stake, their coins as part of a process to validate transactions on the blockchain. Staking on a PoS network is similar to buying a CD in that you know the initial yield and for how long the duration of the lock-up is.
Proof-of Stake (PoS) was developed as an alternative to the Proof-of-Work system Bitcoin uses and its yield framework in many ways is similar to Bitcoin mining:
Instead mining operators pooling their mining computers (ASICs) together, PoS network operators (nodes) pool coins/tokens from coin holders.

The more coins/tokens a node has the greater the chance it will 'mine' a block.

Coin/token holders pledge/lock-up their coins with a network operator.

When a new block is found by a node new coins/tokens are generated as a 'mining' yield that is dispersed amongst the holders that have locked up their coins with the operator.

Over time the yield will change based on changes in the coins ecosystem, governance, development, etc.
Staking is unique in that it is a yield process native to the blockchain and although some service providers have emerged to provide 'staking-as-a-service' coin/token holders can partake in the staking process independent of a 3rd party.
On dividends:
It's worth pointing out that in the same report, Goldman also made the claim:
"We believe that a security whose appreciation is primarily dependent on whether someone else is willing to pay a higher price for it is not a suitable investment for our clients."
When we look at stocks, of the top five biggest companies in the S&P 500 (representing ~18% of the index ) only two, Microsoft and Apple, offer a dividend (1.07% and 0.95% respectively). While the other three, Amazon, Facebook, and Google could in the future offer investors a dividend, an investment in stock of one of these companies will primarily appreciation from increases in the price of the stock (i.e. someone else willing to pay a higher price).
Reason 2: Cryptos Do Not Provide Earnings Through Exposure to Global Economic Growth
Cryptocurrencies act as borderless, country-agnostic currencies that have seen tremendous usage in countries with fragile central banks and payment processing tools. A 2019 online pool by Statista.com found that the top 3 countries with users of cryptocurrencies were Turkey, Brazil, and Colombia.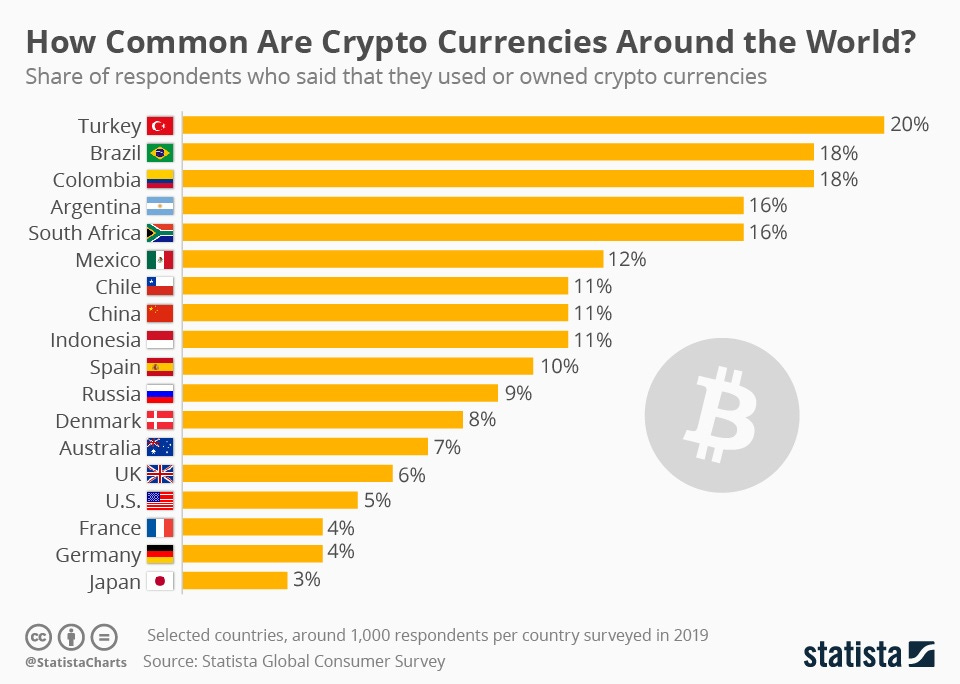 Global awareness, even usage, may not necessarily drive asset appreciation:
While this level of usage in less developed countries is impressive, unfortunately, due to the pseudo-anonymous nature of cryptocurrencies there isn't great data to show if this usage contributes in meaningful way to the appreciation of any cryptocurrency. To this point, while many people in Turkey may be using cryptos, this usage could be small in transaction value which would likely not lead to price appreciation. As such, we think it's more fair to say that cryptocurrencies might not yet be benefitting from global usage.
Reason 3: Cryptos Do Not Provide Diversification Benefits Due to Unstable Correlations
Portfolio diversification is mainly concerned with how the amount of correlation across assets in a portfolio. Historically, cryptocurrencies have been non-correlated with other asset classes. When we think about correlation, we always need to 'zoom out' to see the big picture. For example, during the March economic shock due to COVID19 nearly every asset class substantially dropped. To suggest that cryptocurrencies are correlated to stocks during this period would be misleading to historical correlations. Further, to suggest that cryptocurrencies for some reason should be immune to macro events and guttural reactions from investors would ignore reality. As such, we believe given historical precedent it's mostly false to say cryptocurrencies do not provide diversification benefits.
In the long run cryptocurrencies are mostly non-correlated:
In reality, when we zoom out to a three year period of performance, as well as the current YTD, cryptocurrencies have been fairly non-correlated to major asset indexes: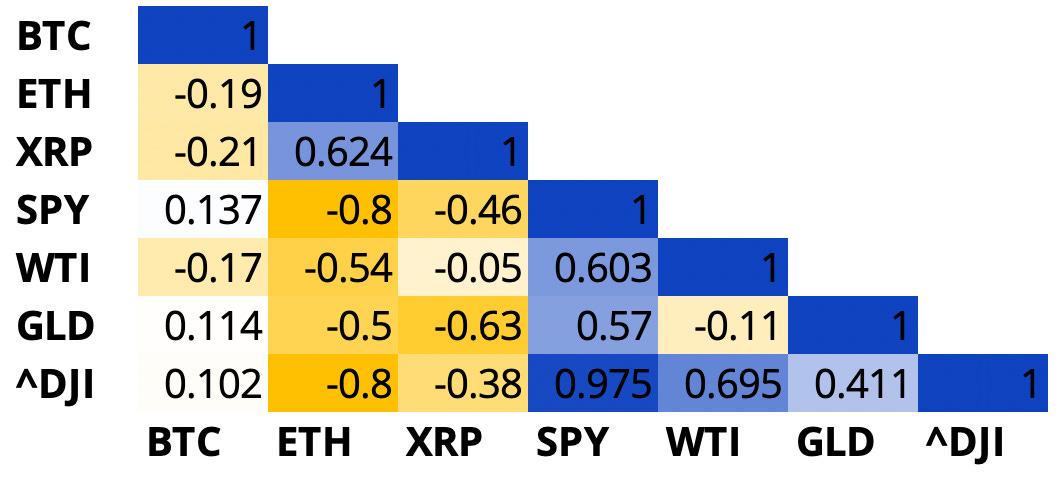 Screenshot: 1,095-day/3-year correlation matrix of major cryptos compared to traditional assets indexes. Blue = highly-correlated, White = non-correlated, Orange/Yellow = negatively correlated. The more white a cell is the more non-correlated the two assets are.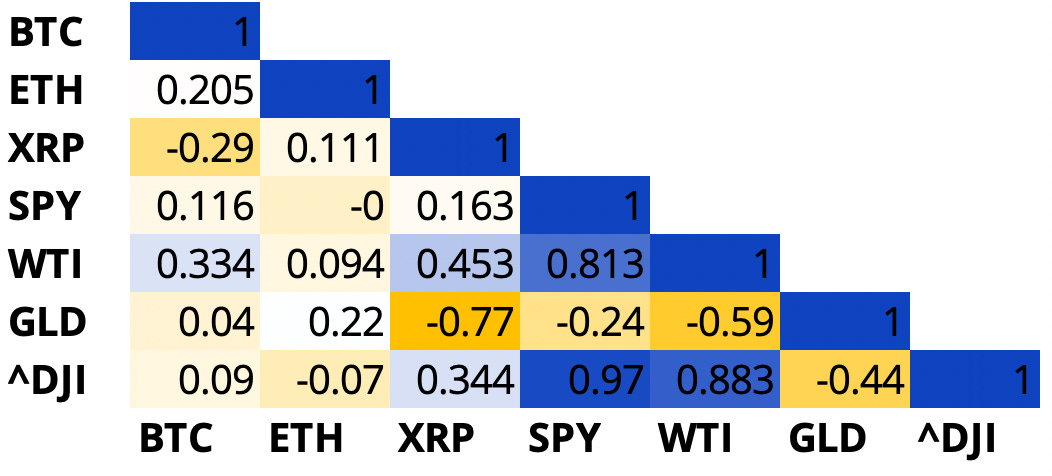 Screenshot: 154-day/YTD correlation matrix of major cryptos compared to traditional assets indexes. Blue = highly-correlated, White = non-correlated, Orange/Yellow = negatively correlated. The more white a cell is the more non-correlated the two assets are.
Just an eyeball check of the correlations between the last 3 years and the year-to-date would show that correlations haven't changed much between the major cryptocurrency assets (BTC, ETH, and XRP) and traditional asset indexes.
Reason 4: Cryptos Do Not Dampen Volatility
Goldman's fourth reason why they do not consider cryptocurrencies an asset class is that cryptocurrencies are volatile - this is true, cryptos are quite volatile. However, similar to our discussion on diversification through non-correlation, measuring volatility is relative to the time horizon being assessed. If we were to cherry pick particular periods of performance to assess volatility, say year-to-date through the height of COVID19, historical volatility of both crypto markets as well as the S&P 500 would look slightly similar with a spike in volatility around March.
Asset classes can spike in volatility, but crypto has always been quite volatile:
The screenshot below showcases the historical volatility (calculated by the chart website TradingView) over the last 5 years. As we can see, while stocks, oil, and gold have had their own relative volatility of late, cryptocurrencies have been volatility for most of their history.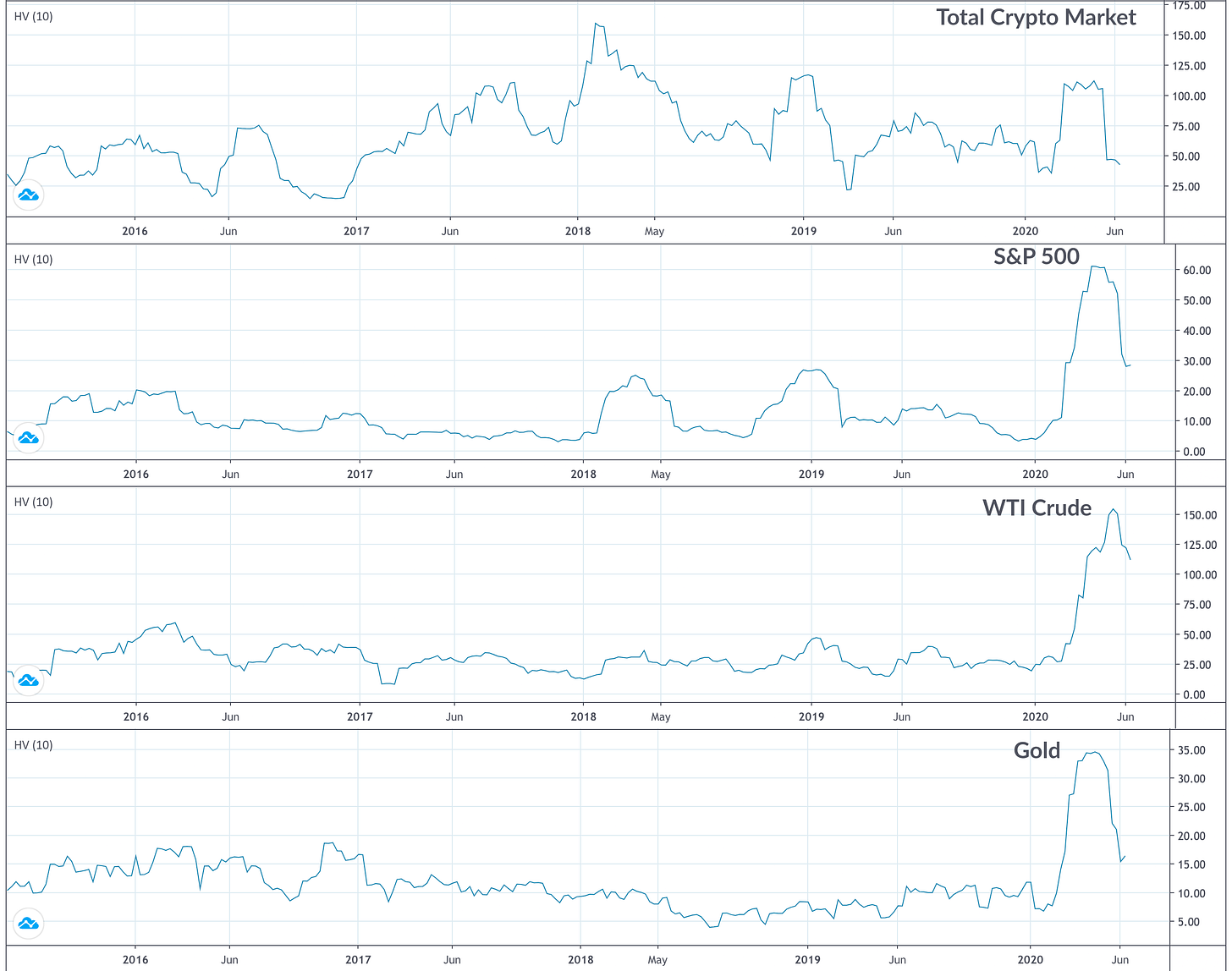 Screenshot: 5-year historical volatility charts for Total Crypto Market, S&P 500, WTI, and Gold.
Reason 5: Cryptos Do Not Hedge Inflation
With respect to inflation, Bitcoin in particular has a built-in anti-inflationary mechanism. As we previously wrote, Bitcoin recently underwent its 3rd "halvening" whereby its issuance rate or new Bitcoin added to the circulating supply has been halved to 6.25 BTC per block as part of an internal mechanism to ensure the scarcity of Bitcoin and limit price inflation. This halvening process is known in advance and is purposeful making Bitcoin one of the only, if not the only, asset in known existence that has a known and reliable issuance scheduled, completely unlike todays M2 money supply issues by most central banks.
Bitcoin's pseudo-anonymous creator Satoshi Nakamoto elegantly described this (emphasis our own):
"The root problem with conventional currency is all the trust that's required to make it work. The central bank must be trusted not to debase the currency, but the history of fiat currencies is full of breaches of that trust. Banks must be trusted to hold our money and transfer it electronically, but they lend it out in waves of credit bubbles with barely a fraction in reserve." - Satoshi Nakamoto
Other institutional investors disagree with Goldman:
Interestingly enough, famed investor Paul Tudor Jones recently sent a memo to his investors announcing that his Tudor BVI fund may trade Bitcoin futures, specifically because he believes Bitcoin can act as a hedge to inflation. While we've focused primarily on Bitcoin, for sake argument it is worth noting that there are number of smaller cryptocurrencies that do not have a fixed supply schedule like Bitcoin. Despite this, considering Bitcoin represents more than 64% of the overall crypto market, we believe it's false to say cryptocurrencies do not provide inflation protection.
Conclusion
We've reviewed each of Goldman Sachs 5 reasons why "Cryptocurrencies Including Bitcoin Are Not an Asset Class" and found that of the 5 reasons really only 1 is fair: cryptocurrencies have been historically very volatile.
From a recent study by Fidelity, volatility has been named the leading reason why investors are hesitant to own digital assets. However, volatility can be managed. Sophisticated portfolio managers of digital assets and cryptocurrencies can and should take great strides to ensure their portfolios have substantial risk management practices in an effort to lower drawdown and reduce volatility for their investors.
So is volatility enough to disqualify a whole asset class? In our opinion it is not. Still, if Goldman still doesn't consider cryptocurrencies to be asset class, then what are they? Perhaps a study for another day.
---
How can we make these newsletters more valuable to you? We'd love to hear your feedback. Connect with us by email.
If you found this newsletter interesting, please consider sharing it, thank you.
Disclaimer: This newsletter and article is in no way intended to provide financial advice or a recommendation of investment in any technology, virtual currency, cryptocurrency, or any financial asset. This article is for educational purposes only.