The Pitfalls and Challenges of Managing a Crypto-asset Fund - Aludra September 14 Newsletter
Why crypto-asset fund administration is more arcane science than other types of funds.

In this weeks article we look at how the rise of DeFi complicates the typically-mundane task of fund administration in an already complicated asset class.
---
Main Analysis: The Pitfalls and Challenges of Managing a Crypto-asset Fund
Date Written: September 9, 2020
This article originally appeared in September 9th edition of DigitalBytes as a guest article.
As regulated entities, hedge funds must have diligent, thoughtful processes to track the assets they invest in, the counterparties they trade with, the prices they pay for the assets they own, the net asset value of the fund, and more. In the world of traditional finance standardized tools, methodologies and service providers exist to make these processes, collectively referred to as 'fund administration', as straightforward and consistent as possible. Typically, funds outsource their administration needs to a 3rd party administrator. Examples of such fund administrators in the USA include MG Stover, Trident Trust or, in Australia, Mainstream, to name just a few.
In the crypto and digital asset world, on the other hand, these processes tend to be much more of an arcane science. One of the most important aspects of fund administration is fund accounting, whereby funds calculate the profit and loss of assets in their portfolio to derive a total valuation. For most asset types this process is typically simple, especially when assets do not change in value often, or there are not multiple markets to which an asset can be priced, such as real estate. For crypto assets, this process is complicated by a number of factors.
For starters, crypto-assets do not represent ownership of anything in the traditional sense - there are no 'shares' of Bitcoin. Further, crypto assets trade constantly, 24/7, meaning there is no universal standard for what the closing price of an asset like Bitcoin may be. This is very different compared to assets such as public equities which typically trade on regulated exchanges that have open and close times for the exchange (i.e. 9:30AM–4PM for the New York Stock Exchange). If you're the administrator of a crypto fund, what time do you say is the closing time for crypto assets? This matters, because crypto-assets can be incredibly volatile and have significant price changes in mere minutes, thus impacting the reported value of a portfolio for a day or even a quarter.
Crypto-fund administration is further complicated by the global nature of crypto-assets and the jurisdictions they can be traded in. For example, funds domiciled in the US may acquire (through a multitude of methods) crypto-assets that do not trade on any US-regulated exchanges, often because US exchanges have lengthy review processes before they will list a crypto-asset. This can present challenges for a fund as it owns a seemingly liquid in nature asset yet have no straightforward way to sell the asset without the use of private exchanges, which typically lack transparency, so are called 'dark pools' or an over the counter broker.
Growth of crypto funds assets under management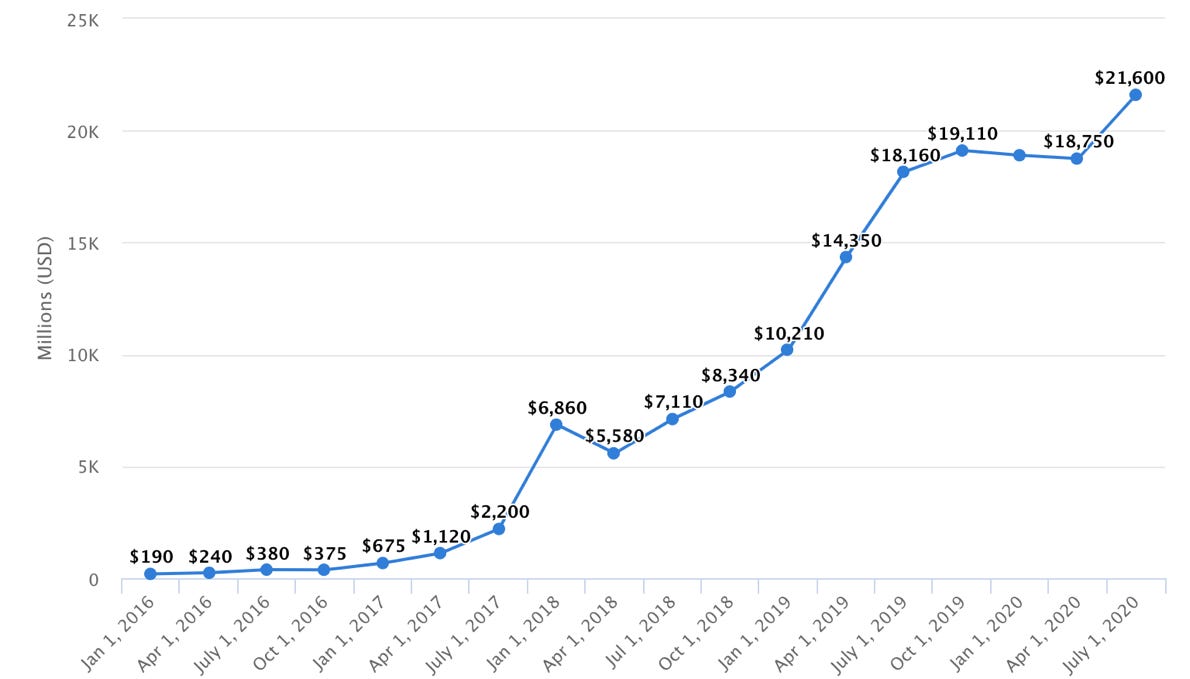 Source: Cryptofundresearch.com
While software and services do exist to track crypto-asset portfolios at an investment grade precision, these tools are typically very nascent in their capabilities and features. Further, Weekly Blockchain and Digital Assets Analysis by TeamBlockchain Ltd. software designed to track crypto assets can have challenges scaling with the speed of this asset class and the launch of new digital assets and protocols, especially protocols that circumvent the usage of centralized exchanges that would normally provide reporting information. For example, a new decentralized finance (DeFi) protocol called DFI.money (itself a 'fork' or clone of another protocol Yearn.Finance) with the token YFII, launched on July 29th 2020, has already captured a nearly $300M market capitalization. That makes it one of the most valuable crypto assets in existence yet, because it is so new, most portfolio software doesn't yet support the asset. Further, because it's a DeFi platform, assets can be traded through the protocol but, again, because it is so new there is no reporting functionality to see your trades directly on the platform. Users of the platform seeking to track their activity on it must use alternative tools for tracking. And while DFI.money is just one platform, there are countless other DeFi platforms and other non-DeFi related crypto assets that have recently launched or will soon be launching. It's enough to make your head spin.
Which begs the question, are crypto-funds ready for institutional investors? The answer very simply is that it depends on the fund. Some crypto-funds do not utilize the most bleeding-edge platforms or trade and invest in crypto-assets that do not trade on regulated exchanges specifically because of the complexities and often opaque legality usage of these platforms and ownership of these assets. These funds typically have built in- house accounting systems to track the various assets they own across the various exchanges they operate on. Further, a number of specialized 3rd party fund administrators have begun offering their services to crypto-funds to bring the white-glove service commonly found in traditional asset classes to the digital world. Further, large-scale financial service companies such as Fidelity are beginning to launch Bitcoin focused investment vehicles for institutional investors, thus providing greater legitimacy for the asset class and likely raising the bar with respect to fund administration.
Despite this willingness to innovate from firms like Fidelity, the funds that will perform the best will likely necessitate greater portfolio diversification than just simply investing in Bitcoin which will require investment in some of these newer, emerging crypto and digital assets. As this asset class is still in infancy, institutional investors will need to have clear performance expectations for the funds they invest in and look to invest in funds that strike a balance between portfolio diversification and fund administration.
---
How can we make these newsletters more valuable to you? We'd love to hear your feedback. Connect with us by email.
If you found this newsletter interesting, please consider sharing it, thank you.
Disclaimer: This newsletter and article is in no way intended to provide financial advice or a recommendation of investment in any technology, virtual currency, cryptocurrency, or any financial asset. This article is for educational and informational purposes only.